Lucas Duda produced an RBI double and solo homer and the Mets snapped Milwaukee's nine-game home winning streak with a 7-3 victory Friday night at Miller Park. The Mets had produced an 0-6 homestand before winning the opener on the road.
Jenrry Mejia now makes his first major league start in exactly two years. He last started against the Pirates on Sept. 15, 2010, before undergoing Tommy John surgery. Mejia,who prefers a starting role, opposes right-hander Shaun Marcum (5-4, 3.71 ERA) at 7:10 p.m. ET.
Saturday's news reports:
• Sandy Alderson told the Post about the staff: "I think the coaching staff has done a solid job. Obviously we haven't gotten the production out of the bullpen we would have liked, but I am not sure that is related to any coach. But Dan [Warthen] has done a nice job over the last couple of years, and I do believe he has developed a rapport with many of the pitchers."
The newspaper interprets that to mean the coaching staff should return fully intact. Alderson speaks in lawyer-like fashion though, so that's hardly definitive based on that comment. In fact, it's probably more likely the coaching staff does not return 100 percent intact.
Alderson told the Post that he will discuss the coaches with Terry Collins in the next week to 10 days.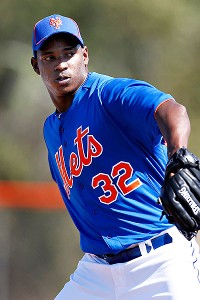 Jeff Roberson/Associated Press
Jenrry Mejia faces the Brewers on Saturday on the two-year anniversary of his last major league start.• Mejia had dramatically more success at Triple-A Buffalo this season as a starting pitcher than working in the bullpen, even though he is often projected as a reliever. He had a 2.75 ERA in 10 starts and a 5.48 ERA in 16 relief appearances with the Bisons. Despite the disparity, Wally Backman does not rule out Mejia adapting to bullpen duty. Backman recently noted to ESPNNewYork.com that Mejia contributed 5 1/3 scoreless innings over his final three relief appearances with Buffalo before the Mets returned him to the rotation. Backman figures Mejia may work in relief for the Mets in 2013 if for no other reason than one area of depth with the club is starting pitching.
"You know what? He had never really relieved before, until he got to the big leagues for the short time [in 2010]," Backman said. "They sent him back to Triple-A and he started. And then he got hurt. So this year he started as a starter. And [then] we put him in the bullpen. And, believe it or not, I think it was his last three outings in the bullpen, he was pretty good. Then we all of a sudden started him again. To me, he was figuring it out."
Mejia is scheduled for three starts before the season concludes. Read more in Newsday, the Post, Record and Star-Ledger.
• Read Friday's game recaps in the Times, Star-Ledger, Daily News and Milwaukee Journal-Sentinel.
TRIVIA: Who else was traded by the Mets in the deal that sent now-Brewer Carlos Gomez to Minnesota for Johan Santana?
Friday's answer: Dwight Gooden is the last Met to win the Cy Young Award, in 1985. Gooden went 24-4 with a 1.53 ERA that season.