Jenrry Mejia struggled on the two-year anniversary of his last major league start. Mejia was charged with five runs on six hits and five walks in three-plus innings as the Mets lost to the Milwaukee Brewers, 9-6, Saturday night. The final two runs charged to Mejia scored when Jeremy Hefner entered and tossed a wild pitch, then served up a homer to Rickie Weeks. Thirty-six of Mejia's 68 pitches were balls -- 53 percent.
The Los Angeles Dodgers beat the St. Louis Cardinals on Saturday to pull even for the NL's second wild-card slot, and moved the Brewers closer as well. L.A. and St. Louis each are 76-70. The Pittsburgh Pirates (73-71) are two games back, followed by the Brewers 2½ back at 73-72 and the Philadelphia Phillies three back at 73-73. The Atlanta Braves (83-63) firmly hold the first slot.
The Mets complete their three-game series in Milwaukee today with Chris Young (4-7, 4.39 ERA) opposing Wily Peralta (1-0, 3.46) at 2:10 p.m. ET.
Sunday's news reports: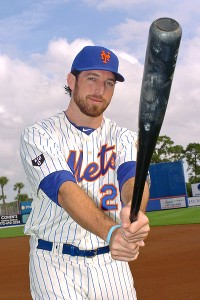 Steve Moore/Associated Press
Ike Davis now is tied with David Wright for the Mets' RBI lead, at 81.• Ike Davis' ninth-inning two-run homer, while inconsequential to the outcome, did tie the first baseman with David Wright for the team RBI lead with 81. Davis now has 27 homers, tied with Eddie Murray for the fourth most in franchise history by a first baseman. Carlos Delgado had 38 apiece in 2006 and '08, while Dave Kingman had 37 in 1982.
Wright, meanwhile, went hitless with two walks Saturday. He remains seven hits shy of matching Ed Kranepool's career franchise record of 1,411. "I hope I get there," Wright told Don Burke in the Post. "Obviously, it means a lot to me personally. You just blink and, all of sudden, you have however many hits it is. ... It's obviously very nice. But it's difficult because of the difficult second half we've had. I'm proud of the fact I've been able to stay healthy and be as consistent as I think I have for the last eight or nine years. You're going to have some years, some weeks that are better than others. But I take a lot of pride in going out there and trying to prepare myself to play at a certain level."
Wright also has 40 doubles, two shy of matching his career high and four shy of matching the franchise record, set by Bernard Gilkey in 1996.
• Dan Warthen reiterated his thoughts from season's past that he views Mejia long term as a reliever. "I think that he works hard to throw the baseball," the pitching coach told Andy Martino in the Daily News. "It's my opinion. With that, it is hard for me to fathom that he is able to go out there and year after year throw 200 innings." Read recaps of Mejia's Saturday performance in the Post, Star-Ledger, Times, Newsday and Record.
• Terry Collins recently suggested the effect of concussions may still neurologically be affecting Jason Bay and slow his ability to react to pitches. Bay indicated he is unaware of that being the case, if it is so. "Terry's asked me that, and I have nothing to quantify that with," Bay told Pat Borzi in the Times. "How do you know? I don't feel like it has. A lot of people look for a lot of reasons as to why things may or may not have come down as they historically have. Albeit that's a viable scenario, but I can't tell you from one day to the next how it felt. Those things did occur, but if I knew the answer, I would have fixed it by now."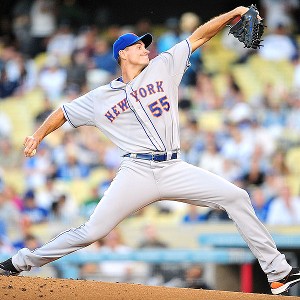 Gary A. Vasquez/US Presswire
Chris Young is poised to reach 100 innings for the first time in four years.
• Young, if he logs 3 2/3 innings pitched today, will reach 100 innings in a season for the first time since 2008. He will receive a $150,000 bonus for achieving that total. Young's contract called for a base salary of $1.1 million. He already has earned $425,000 in bonuses for innings pitched and $750,000 in bonuses for games started. Read more on Young in the Star-Ledger and Record.
• The Mets are expected to start R.A. Dickey, who is bidding for his 19th win, in Monday's series opener against the Phillies at Citi Field. Matt Harvey makes his final 2012 start Tuesday, then Jeurys Familia should get his first major league start Wednesday.
• Andy McCullough notes in the Star-Ledger that Daniel Murphy has made strides as a second baseman. Writes McCullough:
According to advanced defensive metrics, Murphy remains below average at the position. He has cost the team nine runs according to defensive runs saved, an advanced metric which relies on video scouting to determine how much a player's defense is worth. Only two other National League second baseman, Milwaukee's Rickie Weeks and Houston's Jose Altuve, have cost their teams more. Murphy also ranks third in baseball in errors by a second baseman. He has made 15. Of course, some of those numbers are fickle. Murphy does look less mechanical in the field. He's more fluid and less defensive when turning double plays. He was injured last August because he was out of position when an opponent slid into second.
TRIVIA: Which season did the Brewers switch from the American League to the National League?
Saturday's answer: Along with Carlos Gomez, the Mets sent Philip Humber, Kevin Mulvey and Deolis Guerra to the Minnesota Twins in the Feb. 2, 2008 trade that returned Johan Santana.