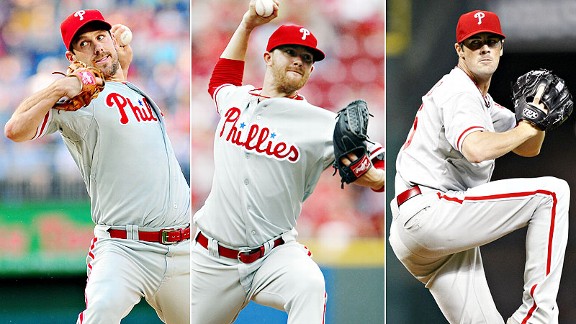 US Presswire
The Mets face (l to r) Cliff Lee, Tyler Cloyd and Cole Hamels at Citi Field.
METS (66-80, fourth place/NL East) vs. PHILADELPHIA PHILLIES (73-74, third place/NL East)
Monday: RHP R.A. Dickey (18-5, 2.88) vs. LHP Cliff Lee (5-7, 3.36), 7:10 p.m. ET
Tuesday: RHP Matt Harvey (3-5, 2.92) vs. RHP Tyler Cloyd (1-1, 4.95), 7:10 p.m. ET
Wednesday: RHP Jeremy Hefner (2-6, 4.99) vs. LHP Cole Hamels (15-6, 3.06), 7:10 p.m. ET
Phillies short hops
• Philadelphia, which catapulted back into the wild-card race after being 10 games under .500 thanks to 15 wins in a 19-game stretch, then proceeded to lose three of four during the weekend at lowly Houston. The Phillies (73-74) are now four games behind the St. Louis Cardinals (77-70) for the second wild-card slot. The Los Angeles Dodgers (76-71), Milwaukee Brewers (74-72) and Pittsburgh Pirates (73-72) also are ahead in the standings.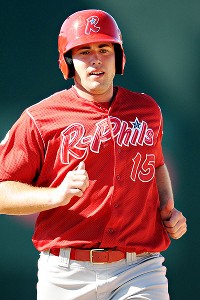 Ken Babbitt/Associated Press
September call-up Darin Ruf produced 38 homers at Double-A Reading this season.
• All-Star catcher Carlos Ruiz returned Sept. 9 after missing more than a month with a partial tear of the plantar fascia in his left foot. Ruiz should start every other day down the stretch because the foot is not 100 percent.
• Third baseman Placido Polanco is on the DL with lower-back inflammation and is unlikely to return this season. Kevin Frandsen primarily has handled the position in Polanco's absence -- although Michael Martinez started seven straight games last week because Frandsen is playing through pain from a stress fracture in his left shin, which resulted from fouling a ball off himself.
• Ryan Howard is four homers shy of 300. Chase Utley needs two homers for 200.
• First baseman/outfielder Darin Ruf made his major league debut Friday as a pinch hitter at Houston. Ruf, who does not really have a position, produced 38 homers at Double-A Reading this season, including 20 in August. The long ball total led all of minor league baseball in 2012 and topped Howard's Reading-record 37, set in 2004. Ruf, a 20th-round pick in 2009 out of Creighton, is expected to see some action in left field for the Phillies.
• Since the trades of Shane Victorino to the Dodgers and Hunter Pence to the Giants, lefty-hitting Juan Pierre and righty-hitting Ty Wigginton have shared left field, John Mayberry Jr. has manned center and Domonic Brown primarily has handled right field. Pierre is due to be a free agent after the season. Mayberry is hitting .347 with four homers and 18 RBIs in his past 27 games.
Last series results
Mets won, 2-1, at Citizens Bank Park, Aug. 28-30 (AP game recaps)
Mets 9, Phillies 5 (10 innings): Ike Davis hit a tiebreaking double during a four-run 10th inning and Kelly Shoppach added a two-run homer. Shoppach hit a tying double in the eighth and then connected off B.J. Rosenberg (0-2) to finish a triple shy of the cycle. Mike Baxter also hit a two-run shot. More
Mets 3, Phillies 2: Lucas Duda hit a two-run homer and Matt Harvey had another sharp outing. Duda, recalled from Triple-A Buffalo three days earlier, also made an excellent catch in left field to preserve the lead and even stole a base. Harvey (3-3) allowed two runs and six hits, striking out six in 6 1/3 innings. He also had an RBI single. Tyler Cloyd (0-1) was decent in his major league debut filling in for Cole Hamels, who was scratched from the start because of a gastrointestinal illness. Cloyd allowed three runs and seven hits in six innings. More
Phillies 3, Mets 2: Kyle Kendrick (8-9) allowed solo homers in the first two innings to Mike Baxter and Scott Hairston, but did not permit another run before leaving with two outs in the eighth. Jonathan Papelbon tossed a scoreless ninth for his 30th save as the Phillies avoided a three-game sweep. Jimmy Rollins was pulled for the start of the seventh inning. He failed to run hard on a dropped popup that could have put him on second base. He stole second base, then was caught in a rundown on a grounder and was tagged out. More