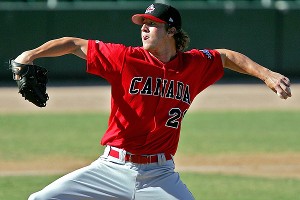 Matt York/Associated Press
Adam Loewen, who played first base and outfield for Triple-A Buffalo this season, appeared in the 2006 World Baseball Classic as a pitcher and held the United States scoreless.
The Mets will have five minor leaguers participating in the World Baseball Classic qualifying rounds that take place in Jupiter, Fla., beginning Wednesday and Regensburg, Germany, the following day.
Infielder Josh Satin and right-hander Jeff Kaplan will represent Israel in Florida, at the spring-training complex of the Cardinals and Marlins, on a roster composed nearly entirely of Jewish-American minor leaguers. That pool also includes France, South Africa and Spain.
The Germany pool includes the host country as well as Canada, the Czech Republic and Great Britain. German catcher Kai Gronauer will represent the host country, while British Columbia-born outfielder Adam Loewen represents Canada and South Carolina-born left-hander Hamilton Bennett represents Great Britain. Loewen participated in the original WBC in 2006 as a pitcher, before converting to first base and outfield. In fact, he tossed 3 2/3 scoreless innings in his lone start, against the United States, six years ago.
Former Mets outfielder Shawn Green will play for the Israeli squad. Among former Mets farmhand, Emmanuel Garcia represents France, Shawn Bowman and Jon Malo represent Canada and Mike Cervenak represents the Czech Republic.
The WBC also will hold qualifiers in November. Panama, Brazil, Colombia and Nicaragua will compete in Panama City. Taiwan, New Zealand, the Philippines and Thailand will compete in New Taipei City, Taiwan.