The Mets appear ticketed for Las Vegas for Triple-A next season.
That will prove a logistical challenge, because call-ups will be playing in the western U.S. and may have difficulty getting to New York with some urgency. It also will make it tougher on the team's pitching, potentially including top prospect Zack Wheeler, who is expected to open next season in Triple-A.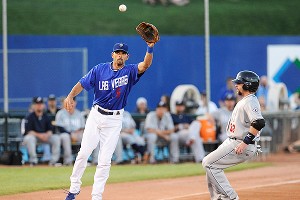 Josh Holmberg/Associated Press
Ex-Met Chris Woodward played for Las Vegas this season while a Blue Jays farmhand. Now the Mets appear headed to Vegas for the 2013 Triple-A season.
Case in point about the relative challenges in the Pacific Coast League for pitchers: The eighth, ninth and 10th best ERAs in the PCL this season all were 4.00 or above. By contrast, the 10th-best ERA in the International League -- which includes the Mets' former home, Buffalo -- was 3.50. Among the issue are high altitude and dry conditions that cause balls to fly. Dryness also can make it more difficult to snap off breaking pitches.
"The biggest fallacy is you can't pitch well at high altitudes," said Terry Collins, who managed five seasons in the PCL with Albuquerque. "That's not true. I can go back and look at the 1988 team when we were in Albuquerque. We had an outstanding pitching staff, headed by Ramon Martinez. He was really good. Billy Krueger was real good. Bill Brennan was pretty good. We had some good pitching. You've got to go pitch. Just because you're at high altitudes doesn't mean you don't have to pound the strike zone. In Vegas, it's the desert. The ball will break. It's tough because the air is lighter. It carries a little bit more. Keep the ball down.
"As far as offense goes, yeah, sometimes it can be a little deceiving when you see guys that are hitting six and seven home runs all of a sudden hitting 15 or 16. You can sometimes overrate the power issues. It's the same with base hits. The ground is so hard out there -- the major league fields are so well watered and taken care of -- that some of those balls aren't going to get through major league infields. But what you do is you really use your scouts and your player-development people to find the skills. Sometimes you have to back off the results.
"I remember for years in Albuquerque they used to take 25 points off your batting average immediately because you were playing in Albuquerque. Well, I saw Kevin McReynolds play in Las Vegas and hit 30-something homers. And he's still a pretty good hitter. Again, I think if you're good enough you can pitch or player anywhere."