R.A. Dickey remains at 18 wins with three remaining starts scheduled. And although his line looked more than acceptable -- 7 IP, 5 H, 3 R, 2 ER, 2 BB, 8 K -- the knuckleballer hardly was content after the Mets lost to the Philadelphia Phillies, 3-1, Monday night.
"I'm not leaving the park satisfied, that's for sure," Dickey said. "Especially the way that we've been playing, I feel like the team looks to me to try to right the ship. To not be able to do that is tough. I take that very seriously. Tonight was a tough one in that regard."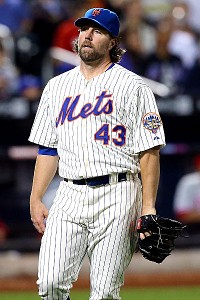 Jim McIsaac/Getty Images
R.A. Dickey allowed two solo homers and suffered his sixth loss of the season.
Dickey said he had no grounds to quibble with being pulled at 112 pitches for a pinch hitter with two outs and none on in the bottom of the seventh.
"I want to win the game, and sending me up there against Cliff Lee is not the best opportunity for us to win the game," Dickey said. "And I get that. I'd like to pitch a complete game -- I could have pitched a complete game tonight, I felt like. But that wouldn't have given us the best chance to win against that guy. But (Terry Collins) has always asked me and communicates well with me, and I appreciate that very much.
"I'm not going to do anything that would subtract from our ability to win a game. And that's the way I believe it should be done. That means that I don't bounce back on two days' rest to try to get extra starts. That doesn't mean that I go out when we're down 2-1 in the seventh inning. It doesn't feel right to me."
As for whether he monitors his Cy Young competition, Dickey said: "From early on in my life I've always been a fan of box scores. Growing up I remember sitting at the table with my grandfather looking at The Tennessean (newspaper) and tracking Shawon Dunston trying to hit .300 for a season. So, yes, I do look at the box scores. I don't know if I pay particular attention to who's doing what and how that affects me. That does not change the way I go about my business. So it doesn't do any good for me to wish bad to them or good to them or whatever else. I just need to take care of me."