R.A. Dickey surrendered solo homers to Jimmy Rollins and Domonic Brown and failed to win his 19th game because the Mets again mustered little scoring at home in a 3-1 loss to the Philadelphia Phillies on Monday. Dickey will have three more starts to try to notch two wins -- Sunday against the Miami Marlins at Citi Field, then games at Atlanta and Miami.
Tonight, weather permitting, Matt Harvey (3-5, 2.92 ERA) makes his final 2012 start before being shut down due to an innings count. He opposes Phillies rookie right-hander Tyler Cloyd (1-1, 4.95).
One more loss by the Mets would clinch their fourth straight losing season.
Tuesday's news reports: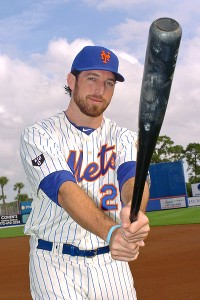 Steve Moore/Associated Press
Ike Davis may be traded this offseason.• The Mets will consider trading Ike Davis this winter, which would open first base for Lucas Duda and potentially address other areas of need, a baseball source told ESPNNewYork.com. Mike Puma in the Post also weighs in on the Davis vs. Duda debate, writing:
The 25-year-old Davis said he would like to stay in the organization that selected him No. 1 (18th overall) in the 2008 draft. But he said he won't be bitter if he's dealt. "If they trade me, they trade me -- I can't do anything about it," Davis said. "I have to do my job where I am at." Does Davis consider himself a cornerstone-type player? "I think I can help teams win baseball games," Davis said. "That is all I want to do."
• After the Buffalo Bisons showed no interest in renewing their four-year-old affiliation agreement, the Mets signed a two-year deal -- the shortest available -- with the Triple-A Las Vegas 51s of the Pacific Coast League. Terry Collins, who managed in that league for five years, acknowledged the altitude and dryness of the West Coast ballparks present challenges to pitchers and inflate batters' statistics. But pitchers can still thrive, the manager added. Top prospect Zack Wheeler, who likely is ticketed for Triple-A to open next season, tweeted after the news became official that he is familiar with those types of conditions because he played with San Jose in the California League while in Class A with the San Francisco Giants.
"The Mets have been in the PCL before -- not quite this far out West -- but I think it will be good," Paul DePodesta told Todd Dewey in the Las Vegas Review-Journal. "There are a lot of direct flights to New York from Las Vegas. It adds a little flavor to our development system. We play at a lot of pitcher-friendly parks throughout our system ... It will be a challenge for us and our fans not to get too distracted by some of the statistics and focus on the development of the player. On the other hand, our hitters might have a field day."
You can view a PDF of the 51s' 2013 schedule here. Read more in Newsday and the Star-Ledger.
• Dickey had no margin for error in Monday's loss. The Mets have now scored three or fewer runs in a franchise-record 14 straight home games. They are 4-22 at Citi Field since the All-Star break. Read game recaps in the Star-Ledger, Newsday, Record, Times, Post and Daily News.
• Columnist Tyler Kepner in the Times tackles the state of the Mets. Writes Kepner:
The few positives from the second half, manager Terry Collins said, have been the emergence of Matt Harvey, the development of some young relievers and the improved play of Ike Davis. "So there's been some things," Collins said. "It just shows you guys are not just pitching the tent together and packing it up. There's still some individual goals that want to be achieved here, and guys are going out every day to achieve them."
Yet even the best individual seasons, by R.A. Dickey and David Wright, are tinged with some concern about their futures with the Mets. Neither is signed past 2013. Only one player has a guaranteed contract beyond next season -- the left-hander Jon Niese, who signed a five-year, $25.5 million deal in April. The Mets are not used to such flexibility, but the question is what they will do with it. Niese, for one, is interested.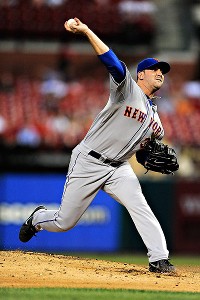 Jeff Curry/Getty Images
Matt Harvey's final 2012 start is scheduled for tonight.
"I signed that deal because I thought it was in everybody's best interest, including myself," said Niese, who is 11-9 with a 3.46 earned run average. "That's what I wanted to do, I wanted that financial security and that feeling of not having to worry about anything besides pitching, and I think that's helped me out a lot this year. Obviously, with R. A.'s situation and David's situation, I am curious to see what's going to happen. And even beyond R. A. and David, I'm kind of interested to see what else we do to improve the team."
• Harvey understands the decision to shut him down after this outing. But, like Stephen Strasburg with the Washington Nationals, that does not mean he is ecstatic about not completing the season in the rotation. Read more in the Record.
• Ruben Tejada and Manny Acosta will represent Panama in World Baseball Classic qualifying from Nov. 15-19 in their native country. Afterward, Tejada said, he plans to return to New York to train with Jose Reyes at a Garden City, Long Island, facility. The Mets have five farmhands participating in WBC qualifying this week -- Josh Satin and Jeff Kaplan with Israel in Jupiter, Fla., and Adam Loewen (Canada), Kai Gronauer (Germany) and Hamilton Bennett (Great Britain) in Regensburg, Germany.
• The Mets added seats in foul territory behind home plate at Citi Field to test out the configuration for next year's All-Star Game.
• The mayors of Boston and New York are declaring "Knuckleball Day" this week in their cities to coincide with the official release of the documentary that focuses on Tim Wakefield and Dickey. Read more in Newsday.
• Jeremy Hefner will reenter the rotation Wednesday. Collin McHugh also will get another start, according to Collins. The manager would like to see Jeurys Familia continue in a relief role for now, since that is the rookie's likely 2013 role with the major league club. Still, Familia may get a start the last week of the season. Read more in Newsday.
• Triple-A pitching coach Mark Brewer will not be retained by the organization, Sandy Alderson told Andy McCullough in the Star-Ledger.
TRIVIA: Who was involved in the last trade between the Mets and Phillies?
Monday's answer: Since the trade of Shane Victorino to the Los Angeles Dodgers, John Mayberry Jr. has been the Phillies' primary center fielder.