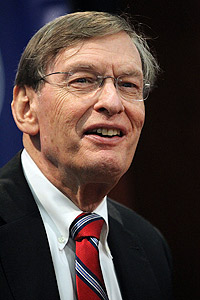 Ronald Martinez/Getty Images
Bud Selig
Bud Selig praised Mets owner Fred Wilpon and the state of the Mets, particularly from a financial perspective, while joining Mike Lupica on ESPN New York 98.7 FM.
"I'm very confident about the Mets' future," Selig said. "I have a lot of faith, of course, in the Wilpons. A lot of faith. And it's justified. And it's been justified in the last year again, not that I needed that. I also have a lot of faith in Sandy Alderson. He's an outstanding baseball man. I think they're very much on the right track.
"Look, rebuilding jobs take time. I've watched it. I've watched it myself. I know how difficult they are. I'm telling you right now: The New York Mets, I have absolutely complete confidence they'll be a very competitive baseball team in the years to come."