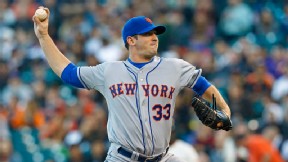 Jason O. Watson/Getty Images
Matt Harvey will be in full shutdown mode after Wednesday night's game.
Not only will Matt Harvey make his final 2012 start on Wednesday night against the Philadelphia Phillies, he is done picking up a baseball completely after the outing. Terry Collins said Harvey will not continue to throw bullpen sessions and receive instruction outside of games, either, now that he has reached his innings limit for the season.
"If he was going to do any more pens, we'd keep pitching him. This will be his last start. We'll pinch-hit him," Collins quipped, a reference to Harvey's .375 batting average.
"He's accomplished, certainly, much more than we had hoped," the manager continued. "We were just hoping he would get through the Triple-A season and have success and certainly be in the picture next year. With what has happened with our starting rotation, he's gotten the opportunity to come up here and certainly prove that he belongs here. So he's done a good job.
"He shows the stuff to be a winner -- a consistent winner. ... I think he will get it with time. As we've seen [Stephen] Strasburg when he first got up here [he was] throwing 100 mph -- not that he can't, but he's tamed it down a little bit to where command of a 95 and 94 is what he's getting it done with. And I think Matt can do that same thing. He's going to strike people out. Strikeout guys are going to increase pitch counts and stuff. But as we've talked about after the last couple of starts, let's try to get some easy outs. Let's try to get a couple of two-pitch outs instead of striking somebody out where it takes six pitches to do it."
Said David Wright: "He'll be the first one to tell you: There's room for improvement. He's got the stuff to go out there and dominate. Now it's just a matter of trying to keep that pitch count down and realizing that sometimes contact is good to get deeper in a game. No question he has the stuff to dominate. And he knows that.
"He's got an inner confidence about him that you don't see from a lot of younger players. In spring training, he was not wide-eyed. There was no awe, at least that he let out. He went about his business and he learned from Johan [Santana] and some of the other veteran pitchers. He works incredibly hard. He's relatively quiet, but he gets along with everybody. I think it's a great mix of that confidence -- not a cockiness, but a confidence -- and also a feeling that he knows he belongs."