WHAT IT MEANS: Matt Harvey's 2012 season is in the books.
Harvey surrendered a game-opening homer to Jimmy Rollins but no other hits in seven innings and is now being shut down for the season because of an innings limit. He went out with a no-decision, though, despite his success. The Mets dropped to 4-23 at home since the All-Star break with a deflating 3-2 defeat against the Philadelphia Phillies on Wednesday night.
With Frank Francisco unavailable because of elbow tendinitis, rookie Josh Edgin handled the ninth inning with a string of lefties due up, bidding for his first major league save. Edgin struck out Rollins and pinch hitter Ty Wiggington to open the frame, then walked Chase Utley on a full-count pitch. Ryan Howard followed with a two-run homer. Howard had struck out 38 times in 80 at-bats against left-handers this season before taking Edgin deep.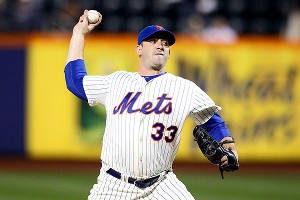 Alex Trautwig/Getty Images
Matt Harvey allowed only one hit in seven innings but received a no-decision.
The Mets (66-82) clinched their fourth straight losing season. It also reduced the tragic number for postseason elimination to three pending the outcome of St. Louis' game against Houston.
Edgin had 33 career minor league saves -- 27 of which came in 2011 in Class A. He had only a 2-1 lead to work with because Andres Torres grounded into an inning-ending double play with the bases loaded in the bottom of the eighth. Bobby Parnell had contributed a scoreless top half of that inning.
A half-inning after Harvey overcame a pair of walks in the sixth by coaxing an inning-ending double play from Juan Pierre, David Wright hit a solo homer against Cole Hamels for a 2-1 lead.
Wright went deep for the first time since Aug. 24, against Houston's Jordan Lyles. He is now five hits shy of matching Ed Kranepool's career franchise record of 1,418.
Harvey finished his first major league season with a 2.73 ERA. That's the third-best ERA in franchise history for a rookie making at least 10 starts in his first year in the majors. The only better: Jim McAndrew (2.28, 1968) and Dwight Gooden (2.60, 1984).
Harvey, who finished with a 3-5 record, logged a combined 169 1/3 regular-season innings between the majors and minors. In 59 1/3 innings at the major league level, he allowed 42 hits, walked 26 and struck out 70.
By crossing 50 innings, Harvey will not be considered a rookie in 2013.
The Mets extended their franchise record for failing to exceed three runs to 15 straight home games. The major league record for that futility is 18 straight home games by the 1915 Yankees at the Polo Grounds, according to the Elias Sports Bureau.
The Mets did snap another streak: For the first time in 12 home games, they scored in the opening three innings.
Ruben Tejada singled, stole his third base of the season and scored on Daniel Murphy's single to even the score at 1 in the third against Hamels. The Mets had not scored that early in a game at Citi Field since Scott Hairston's sacrifice fly plated Tejada on Aug. 22 against the Colorado Rockies.
YER OUT: Jordany Valdespin was ejected by Bob Davidson for arguing with the plate umpire after striking out as a pinch hitter to open the bottom of the ninth.
WHAT'S NEXT: In the rainout makeup, Jeremy Hefner (2-6, 4.99 ERA) opposes rookie right-hander Tyler Cloyd (1-1, 4.95) at 7:10 p.m. Thursday.