Terry Collins said moving R.A. Dickey's weekend start from Sunday to Saturday against the Miami Marlins jointly was suggested by the knuckleballer and pitching coach Dan Warthen.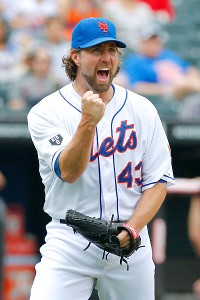 Paul J. Bereswill/Associated Press
R.A. Dickey now gets two of his final three starts at home.
The motivation? If Dickey does pick up win No. 19 on Saturday, his first bid for 20 will be the home finale, Thursday against the Pittsburgh Pirates. That would give the fans a chance to share in the experience. Of course, it also keeps Dickey away from a start the following night in Atlanta. Albeit with one waterlogged game, Dickey has an 8.80 ERA in three starts against the Braves this season. He limited the Pirates to one run in seven innings in Pittsburgh back on May 22.
"It came from R.A. and Dan, so they must have been talking about it," Collins said. "He wanted to come back on Saturday. He wanted to pitch at home one more time. I thought it was a great idea, so we decided to do it that way."
The Mets have won only four of 27 games at home since the All-Star break. So is an extra home start over one in Atlanta really Dickey's best shot to become the Mets' first 20-game winner since Frank Viola in 1990?
"You mean just because we're not scoring at home?" Collins said. "Well, I will tell you, take a look at how he's done in Atlanta. It's not very good. So if you're saying, 'Is he better off pitching here?' -- if we score three, he might give up zero. It might be more than what they're going to score. It's never a perfect world. There's always something else you can do.
"Right now we kind of like the situation with him pitching here and not in Atlanta. As we sat down and looked at it, we said, 'I kind of like the way this sets up better than the other way.' So we decided to go this way."