Matt Harvey soon will have company in the cheerleader section of the dugout. Terry Collins said left-handed reliever Josh Edgin will make one more relief appearance, likely on Thursday night against the Philadelphia Phillies, and then be shut down for the season.
Harvey was shut down because the Mets did not want much more than a 30-inning jump from 2011 to 2012.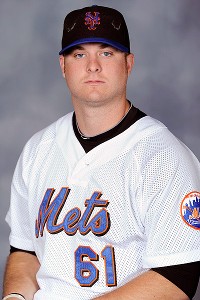 Courtesy of New York Mets
Josh Edgin
In Edgin's case, it's not so much the innings count. He has logged only three more innings than last season. Instead, the issue is appearances. Edgin has made 74 this season, compared with 49 a year ago. And it's more intricate an issue than that.
"He's about 25 above last year, if not more. Plus, that doesn't even count the days he got up, got ready twice and didn't get in," Collins said. "Those are totaling about 90 [including games entered]. So that's enough."
With Robert Carson and Edgin, the Mets finally appear to have two capable left-handed relief candidates in camp next spring training. Collins indicated he would like to have a veteran too, and even have three southpaws in the bullpen at the start of next season.
After posting two strikeouts in the ninth on Wednesday night, Edgin walked Chase Utley and then surrendered a two-run homer to Ryan Howard that lifted the Phillies to a 3-2 win.
"When you face some of the great hitters in the game, once in a while they're going to win," Collins said. "I was privileged to watch one of the great players, if not the greatest player, in the game play for five years in Barry Bonds. Guess what? Once in a while, they got him. And once in a while he got them. That's what made the game great. I thought Josh threw the ball exceptionally well last night. I thought he probably got a huge learning lesson out of it. All he's got is high upside.
"As I told him today, 'Look, today's probably going to be your last outing. You might just face one guy tonight. But you should be very, very proud of the fact that two years ago you walked -- I don't even know what round he got drafted in, if he got drafted -- into Kingsport.' Two years later he's in the big leagues with 75 appearances. That's pretty special.
"So I think he's made huge strides going forward. And I have no reservations at all when we leave spring training to put him in that situation when we go to Philadelphia in that second week in April."