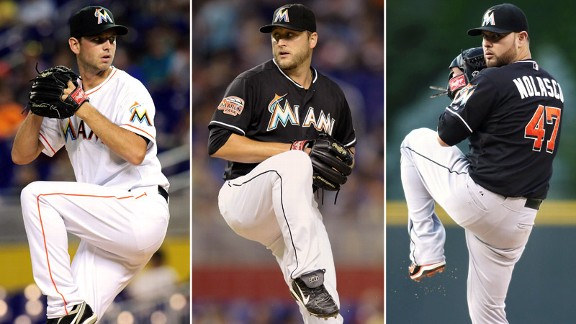 US Presswire
The Mets are due to face (l to r) Jacob Turner, Mark Buehrle and Ricky Nolasco this weekend.
METS (66-83, fourth place/NL East) vs. MIAMI MARLINS (66-84, fifth place/NL East)
Friday: LHP Jon Niese (11-9, 3.46) vs. RHP Jacob Turner (1-2, 3.75), 7:10 p.m. ET
Saturday: RHP R.A. Dickey (18-6, 2.67) vs. LHP Mark Buehrle (13-12, 3.78), 1:10 p.m. ET
Sunday: RHP Chris Young (4-8, 4.37) vs. RHP Ricky Nolasco (12-12, 4.42), 1:10 p.m. ET
Marlins short hops
• Giancarlo Stanton is expected to return for the weekend series. He has been sidelined with a left intercostal strain for the past three games.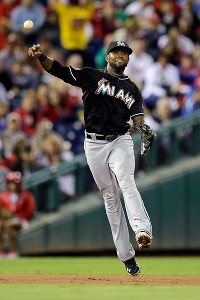 Matt Slocum/Associated Press
Jose Reyes returns to Citi Field this weekend.
In Stanton's place, Justin Ruggiano started twice and Austin Kearns once in right field. Stanton's 90 homers rank sixth in MLB history for a player before turning 23. Those ahead: Mel Ott 155, Eddie Mathews 112, Tony Conigliaro 104, Alex Rodriguez 95 and Frank Robinson 93. Stanton turns 23 in November.
• Right-hander Jacob Turner was acquired from the Detroit Tigers on July 23 in the deal that shipped out Omar Infante and Anibal Sanchez. He is 2-4 with a 6.06 ERA in 10 career major league starts between the two teams, but is coming off tossing seven scoreless innings against the Cincinnati Reds. Turner, 21, was the ninth overall selection in the 2009 draft -- three picks after the Giants selected Zack Wheeler.
• The Mets snapped the career-high 26-game hitting streak of Jose Reyes on Aug. 9 at Citi Field. Reyes' 35 steals are tied with Juan Pierre and Carlos Gomez for third in the NL. Michael Bourn leads with 39, followed by Shane Victorino with 37.
• Former Mets farmhand Gil Velazquez was promoted Sept.14 -- two weeks after completing his minor league season with the Marlins -- because third baseman Donnie Murphy suffered a season-ending concussion.
• Team president Larry Beinfest is expected to be fired, USA Today reported.
Last series results
Mets won, 3-0, at Marlins Park, Aug. 31-Sept. 2 (AP game recaps)
Mets 3, Marlins 0: R.A. Dickey pitched a five-hit shutout and Ike Davis backed him with a homer. More
Mets 5, Marlins 3: Kelly Shoppach hit a go-ahead two-run single with two outs in the ninth inning that cleared the bases when center fielder Justin Ruggiano misplayed the ball. The Mets had been frustrated most of the night by Josh Johnson. He allowed a run and three hits in eight innings and held the Mets hitless until the fifth. Johnson departed leading 3-1. More
Mets 5, Marlins 1: Jason Bay hit his fifth career grand slam in the Mets' five-run first inning. More