The final pitch of Josh Edgin's 2012 season? That would be an offering served up for a grand slam to Ryan Howard on Thursday. It was the second straight day Edgin surrendered a homer to Howard.
Terry Collins confirmed Friday afternoon that Edgin, despite the poor ending, is being shut down for the remainder of the season because of an appearance cap. Between the majors and minors, the rookie left-hander has appeared in 75 games this season. That's a jump from 49 a year ago.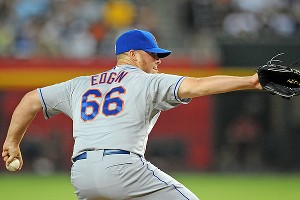 Norm Hall/Getty Images
Josh Edgin, like Matt Harvey, is now shut down for the remainder of 2012.
"Any person who that happens to would prefer to end on a good note," Edgin said. "I'm just going to use it to make yourself better off of it -- not [be able to] think about, 'Hey, I struck Ryan Howard out to end the year. I'm going to just sail into spring training.' Instead, it'll be like, 'Hey, I gave up a grand slam to Ryan Howard. The second week of April I'm going to get him out.' It's something to keep in the back of your head. Motivation, I guess you could say."
Said Collins: "I talked to him today. He's, of course, really disgusted with the way it ended, which I totally applaud. … He can't figure out why we want to shut him down. We don't want to shut him down. But it's in the best interest of him. I told him, 'You basically could have been in over 90 games due to the fact you've warmed up, been ready, warmed up and haven't got in certain games.' I said, 'For a guy basically his first year in the big leagues, that's a lot of games for a season.' And I need him healthy."
Collins said the staff will focus on improving the southpaw's command during spring training so he is less frequently missing over the middle of the plate.
Lefties ultimately hit .164 and righties .263 against Edgin in the majors. He appears a lock to be in the Opening Day bullpen and is the most capable lefty reliever the Mets have under control for 2013.
Edgin (1-2, 4.56 ERA) said the pair of Howard long balls would not diminish his confidence. He struck out 30, allowed 19 hits and 10 walks and hit two batters in 25 2/3 major league innings.
"I had a decent year," Edgin said. "I'm not going to say bad and I'm not going to say good. I'm giving myself a lot of room for improvement. I know I can pitch a lot better than what I did some of those outings. It basically boils down to location of fastballs."
As for how he feels physically after this workload, he added: "My arm's fine. I mean, it's September. I feel like I just threw a season. Nothing different than any other soreness. I guess I had my innings limit, or my appearances limit, and that's it.
"As a competitor, in general, I want to be out there to help my team and do whatever I can to help them win. You understand it from the baseball point."