After nine straight home losses and a woeful second half at Citi Field, how did Terry Collins feel after Friday night's 7-3 win against the Miami Marlins?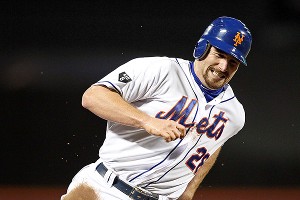 Alex Trautwig/Getty Images
Daniel Murphy scores the opening run of Friday's 7-3 victory.
"It felt like a playoff game -- win," Collins said, presumably with some exaggeration. "... We got some big hits early, played hard, ran the bases hard."
The Mets improved to 5-24 at home in the second half. They will bid for only their second home series win since the All-Star break when R.A. Dickey opposes Mark Buehrle on Saturday. The Mets took two of three from the Houston Astros from Aug. 24-26.
"There's no explanation for what's happened. None," Collins said. "No excuses. We know this is what they can do."
Collins, who implied his team had quit after Thursday's 16-1 defeat against the Philadelphia Phillies, batted away any suggestion after Friday's game that his now-retracted statements were a wake-up call.
"I don't think so. I really don't," Collins said. "Probably more today me going to them and making sure that they know I support them, that I respect them in every way. I've told you guys all year: They're a tremendous bunch of guys. It's a great clubhouse. They just came out today and played like they know they can. Maybe the fact that they got more support than the negative side that they got last night was probably a better way to go about it."