Mike Puma in the Post quotes a team source as saying there is "zero" chance Jason Bay is released this offseason ... or even during spring training.
The unproductive Bay is owed $19 million next season, including a 2014 buyout.
The stance may be posturing on the part of the Mets to maintain some trade value, since a team would be unlikely to acquire a player -- even with significant cash kicked in -- if it knows it can sign him after being released for only the major league minimum. Still, it is highly unlikely anyone actually wants to acquire Bay, which means the Mets with near-certainty take him to spring training.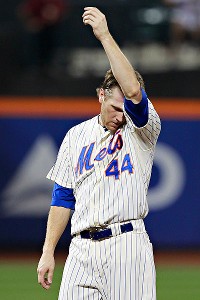 Mike Stobe/Getty Images
Jason Bay is owed $19 million next season.
It's probably the most likely scenario that the Mets do have Bay on the Opening Day roster. After all, you cannot currently name a full complement of etched-in-stone outfielders for next season, which would be required to displace Bay.
The Mets now regularly are playing 31-year-old September call-up Fred Lewis, an indication of the depths of their search for viable 2013 pieces. Scott Hairston is a pending free agent. Andres Torres is a likely nontender in December because he is making $2.7 million and eligible for arbitration. That leaves complementary player Mike Baxter, a presumably healthy Kirk Nieuwenhuis and Lucas Duda -- provided he remains in the outfield -- as the best outfield options right now. And the Mets are not flush with cash to pursue free agents.
Bottom line: It's hard to deal in absolutes at this point, since Bay's skills conceivably can further erode, leaving no choice but to release him during spring training -- a fate that befell Oliver Perez and Luis Castillo two spring trainings ago, despite a combined $18 million owed at that point. But if the intention to keep Bay is genuine and absolute and merely based on the money owed before any evaluation of his spring-training ability, well that speaks volumes about the state of the franchise.
Writes Puma:
The source said many decisions regarding the makeup of next year's roster still have not been determined, but team brass has already resolved to stick with Bay. "He's a part of this team," the source said. ... Working in Bay's favor is the fact the Mets in all likelihood will be looking for a new center fielder and perhaps right fielder. The front office is opposed to paying Bay $19 million (including a $3 million buyout) to just disappear and perhaps resurrect his career elsewhere on the Mets' dime. If the Mets were to trade Bay, it would almost certainly involve taking on another bad contract. One trade that never materialized before the July 31 non-waiver deadline would have sent Marlins flop Heath Bell (and the $18 million he is still owed through 2014) to the Mets as part of a deal for Bay.
Though it might be easy for Bay to root for a change of scenery, he said he wants to return to Flushing. "Nobody wants to not have a job," Bay said. "I'm hoping I can turn this around. I have been hoping that for a while. I understand there are scenarios, but this is my job and I take it very serious. It's very hard to fail, but it happens every day. It's not something that you can take a couple of weeks off from and come back with a fresh outlook. This is something you have to grind through, and I take it very seriously."