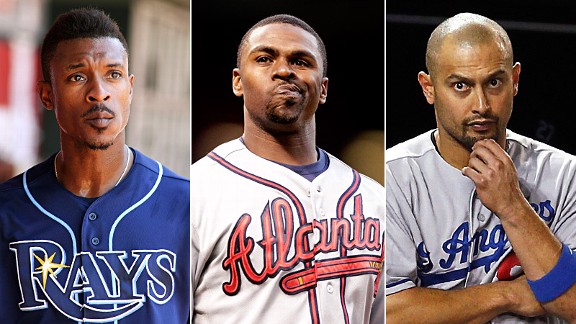 Getty Images
The Mets' payroll constraints make it unlikely they'll offer a free-agent outfielder even a two-year deal, according to the Daily News, precluding the signing of (l. to r.) B.J. Upton, Michael Bourn or Shane Victorino -- not to mention Josh Hamilton.ESPNNewYork.com reported on Aug. 19 that the Mets' payroll was unlikely to deviate much from this season's roughly $90-$95 million.
That figure is confirmed in the Daily News, where Andy Martino writes that likely means no big-ticket purchases this winter.
No Josh Hamilton. No Michael Bourn. No. B.J. Upton. No Shane Victorino.
Writes Martino:
Although the front office has not finalized its offseason strategy, one source said that it was unlikely the Mets will offer any outfielder even a two-year contract this winter. ... The reluctance to enter the free agent market does not preclude an offseason busy with trading (although do not expect the Mets to be big players for Arizona's Justin Upton, according to sources). Operating on a budget that, according to sources, has not been finalized -- but will be only marginally higher than this year's approximately $90 million -- GM Sandy Alderson is ready to build an outfield via the trade market. It has long been clear that nearly every Met will be a trade candidate.