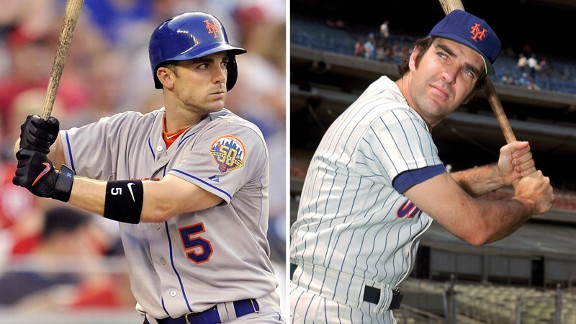 US Presswire/Getty Images
David Wright passed Ed Kranepool's franchise career hits record Wednesday night.
David Wright passed Ed Kranepool for the franchise career hits record and Jeremy Hefner rebounded from failing to record an out in his previous start by tossing seven scoreless innings as the Mets beat the Pirates, 6-0, Wednesday night at Citi Field.
The Mets now complete their home schedule this afternoon with R.A. Dickey bidding to become the first 20-game winner for the Mets since Frank Viola in 1990. Dickey (19-6, 2.66 ERA) opposes right-hander Kevin Correia (11-10, 4.11).
With last night's victory, the Mets improved to 35-45 at Citi Field entering the home finale. The Pirates were eliminated from wild-card contention.
Thursday's news reports:
• Wright had a pair of hits and now has 1,420 in his career, moving past Kranepool (1,418). The third baseman also has claimed the franchise records for RBI, runs and walks this season. He previously had claimed the doubles and extra-base hits records.
"I'm proud of the fact that I've been able to accomplish what I've been able to accomplish so far, but there's a huge hole in doing what I think I want to accomplish as a team," Wright told reporters. "Obviously, individually, there's a lot more I'd like to accomplish. I'm proud of the fact I've had the career I've had so far, and I've worked extremely hard and feel very fortunate to be in this position. So I'm proud of that, but there's still a big hole that's inside."
Read more in Newsday, the Record, Times, Post, Daily News and Star-Ledger.
• Dickey has a team-friendly option for next season at $5 million. He won't be as benevolent in his new deal, the knuckleballer tells Andy McCullough in the Star-Ledger.
"It's different in that you accept the first contract trying to be compensated for 13 years of playing the game and finally getting a chance to take care of your family," Dickey told McCullough. "This mentality is different, because I've done that now. I have more freedom to really weigh things. ...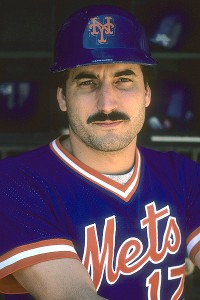 Focus on Sport/Getty Images
Keith Hernandez's mustache is going, going ... almost gone.
"If I don't see them pursuing David hard, I think it would be a message to everybody that they're content to spend the next five or six years rebuilding this organization. Rather than trying to be competitive, and trying to rebuild it at the same time. I think you can do both. I think [doing both is] what they want to do. But if you see them not really pursue him hard, that's the message that I get. Unless they trade him and get multiple, big-league pieces back."
Read more on Dickey's pursuit of win No. 20 in the Record and Newsday.
• Robert Carson has a triceps strain that should sideline him for the remainder of the season, but the lefty reliever expressed relief because he will not require Tommy John surgery, or any procedure. Frank Francisco (elbow tendinitis) also is likely to miss the remainder of the season after again failing to feel comfortable enough to toss a baseball pregame Wednesday.
• Keith Hernandez shaves his signature mustache outside the Rotunda at Citi Field at 11:45 a.m. today.
• Jeurys Familia, who tossed two scoreless innings after relieving Hefner on Wednesday night, will get a start in Miami during the final series rather than Collin McHugh.
• Players applauded the dimension changes at Citi Field that made the ballpark more hitter-friendly. Even pitchers have no quibbles. "The truth of the matter is, if a hitter hits it good it should be a home run, and it is now," Dickey told Mike Puma in the Post. "It's perfectly fair, and more than that I think it looks really natural the way they did it. Aesthetically, it fits."
TRIVIA: Who was the first 20-game winner in Mets history?
Wednesday's answer: Wright has 25 career hits against Ricky Nolasco, more than against any other pitcher.