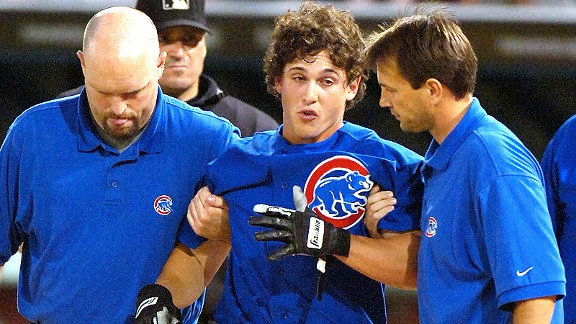 Steve Mitchell/Associated Press
Adam Greenberg was struck in the head with a pitch in 2005, in his lone major league plate appearance.
Adam Greenberg, a Guilford, Conn., native whose major league career lasted only one plate appearance, will get a second chance on Oct. 2 against the Mets.
Greenberg, now 31, was struck in the head by a pitch from the Marlins' Valerio de los Santos on July 9, 2005, while playing for the Cubs and subsequently suffered from vertigo and vision issues. He never returned to the majors.
Now he will be given a second chance for a major league at-bat. After appearing for Israel in the World Baseball Classic qualifier, Greenberg has been invited to play one game for the Marlins -- next Tuesday in Miami, against the Mets. Writes LeAnne Gendreau on the network's site:
Greenberg went on to play in the minors, but has been running a company called Lurong Living. Then came Matt Liston, a documentary film maker and self-described baseball fanatic, who started "One at Bat" and started a national push for Greenberg to get his first official major league at bat. "We want to get Adam Greenberg his first 'official' Major League at bat. Of the 17,500 players who have played in the major leagues, no player has ever had his MLB career end on the first pitch -- except Adam Greenberg. Due to Major League rules, when Adam was hit, his at bat was recorded as a plate appearance, not an official at bat. We would like to see Adam make it back to the big leagues for the official at bat he earned," the Web site says.
Liston asked people to sign the online petition and spread the word through Twitter and Facebook. As of Thursday morning, more than 22,000 people had signed the petition.
Read more from Walter Villa in the Palm Beach Post.