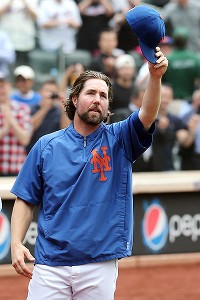 Anthony Gruppuso/US Presswire
R.A. Dickey recognizes the crowd after notching his 20th victory.
R.A. Dickey has the distinction of being the first player cut from major league camp by the New York Mets during spring training in 2010.
Now the knuckleballer is the first 20-game winner on a sub-.500 team since Roger Clemens with the Toronto Blue Jays in 1997 and a legitimate National League Cy Young Award contender.
Pitching in the Mets' home finale at his own request, Dickey limited the Pittsburgh Pirates to three runs in 7 2/3 innings Thursday before departing with a three-run cushion. The Mets held on to win, 6-5, at Citi Field as the 37-year-old Dickey improved to 20-6.
"It was as hard as it's ever been to not get emotional, that's for sure," Dickey said. "I mean, from the get-go, from the introductions to the last pitch.
Read the full news story here.