As the Mets departed Citi Field Thursday for their final trip this season, Dillon Gee's itinerary called for him to head home to Fort Worth, Texas, to begin his offseason.
Gee did so having stepped on a mound Monday for a semi-official bullpen session for the first time since July 13 surgery to repair a damaged artery in his pitching shoulder that had caused clotting and his arm to alarmingly go numb. He threw 25 pitches, and planned to have a more involved bullpen session Thursday before heading home.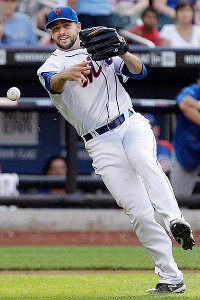 Frank Franklin II/Associated Press
Dillon Gee stepped on a mound this week before returning home to Texas.
Gee was pleased, especially since he previously has never thrown off a mound this quickly after a prolonged idle period.
"All I wanted to do was see how much I could build up before the end of the season," Gee said. "And, to be honest with you, normally I'm not on the mound this early. So to be up on the mound this early and feel pretty good is encouraging. That was a goal."
Gee, now done with baseball activities for the immediate future, indicated his winter buildup to spring training should be the same as any other offseason.
"Normally I start throwing in December. It'll be the same thing I do this year," Gee said. "I'll start working out as soon as I get home, pretty much. I'm just going to follow the plan I always have."
He should have one offseason visit to St. Louis for an examination with the doctor who performed the surgery, but that should just be a formality.
"He told me he wanted to see me maybe just one more time before spring training -- like right before we report, he said, for one last checkup," Gee said.
Gee fully expects the clotting issue is now behind him and will not recur.
"It should," Gee said. "That was why we had the procedure -- so I had a full, clean artery now that's big. It shouldn't happen again. I mean, it took 26 years for that one to happen. So it should be all right."