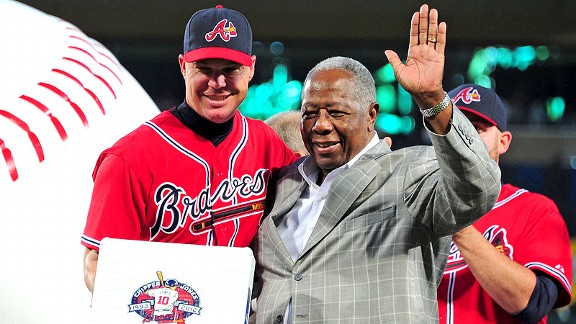 Scott Cunningham/Getty Images
Chipper Jones is embraced by Hank Aaron during Friday night's pregame ceremony.
ATLANTA -- On a night honoring Chipper Jones at sold-out Turner Field, Lucas Duda, Jon Niese and Bobby Parnell contributed to spoiling the party. Duda produced a three-run homer in the seventh against Tim Hudson and Niese limited the Atlanta Braves to one run in seven innings in his final 2012 start as the Mets won, 3-1, Friday night before an announced crowd of 51,910.
With Frank Francisco essentially done for the season with what is being labeled elbow tendinitis, Parnell picked up a save for a second straight day. He first secured R.A. Dickey's 20th win in Queens, then capped being the spoilers on what the governor declared was "Chipper Jones Day" in Georgia. Friday's gathering included Hall of Famer Hank Aaron, whom Braves president John Schuerholz labeled during the pregame ceremony "the true Major League Baseball true home run champion."
The Mets' win also ensured the Miami Marlins would finish in last place in the division, even before a season-ending three-game series between the teams begins Monday at Marlins Park.
"The last two days have been pretty exciting, with the energy yesterday and then the big crowd today," Terry Collins said after Friday's win. "It was certainly a great tribute of Chipper and he's very deserving. But Jon pitched an outstanding game. He should be very proud of the season he's had."
On Saturday night, Chris Young (4-8, 4.21 ERA) now completes his season, opposing left-hander Mike Minor (10-10, 4.27).
Saturday's news reports: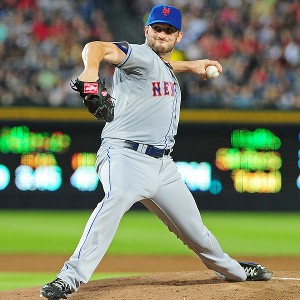 Scott Cunningham/Getty Images
Jon Niese notched his 13th win in his final 2012 appearance Friday night.
• Niese, who experienced a rapid heartbeat during a June 3 start, confirmed to ESPNNewYork.com that he plans to have a relatively minor heart procedure known as "ablation" after the season to guard against recurrence.
• Did Friday's ceremony honoring Chipper get David Wright further thinking about the value of spending his entire career with one team? Not particularly, according to the third basemen. "It's different decisions for different people," Wright told ESPNNewYork.com, while adding: "I respect guys like Chipper and Derek Jeter and, growing up, Cal Ripken Jr. A lot of it has to do with that reason -- because they're symbolic of their franchises."
Robert Weintraub in the Times wonders if the Braves may end up being players for Wright in the not-too-distant future. Writes Weintraub:
With Jones's $13 million coming off the books, and with a strong group of prospects in the minors, the Braves could be in a position to make a large offer to David Wright. ... The Braves are owned by the publicly traded Liberty Media, controlled from Colorado by the billionaire cable magnate John Malone. With a coterie of young and inexpensive stars. including Jason Heyward, Freddie Freeman, Craig Kimbrel, and Kris Medlen -- and with Jones's and pitcher Derek Lowe's salaries gone -- the Braves could be offseason players. But the team is eager to re-sign the center fielder and leadoff hitter Michael Bourn and have the versatile Martin Prado play at third base. Although a recent profit statement indicated that revenue is up, the team's local TV contract lags well behind teams in the league, and Malone is no Ted Turner, eager to pay any price for a winner. The Braves are a small part of the Liberty Media empire.
• Dickey, despite logging 128 pitches in Thursday's win, said he fully intends to start Tuesday in Miami in the second-to-last game, which is his normal turn, rather than wait until the final day. The knuckleballer said he remained glowing a day after winning his 20th game. Jeurys Familia and Jeremy Hefner will get the other starts in the series, according to Collins.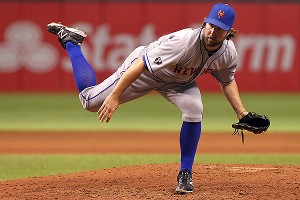 Kim Klement/US Presswire
The Mets have performed surprisingly well supporting R.A. Dickey this season.Carl Bialik in the Journal notes that despite the Mets' subpar record, they have performed extraordinarily well in games started by Dickey -- so the knuckleballer has not been at a disadvantage being on an inferior team. Writes Bialik:
The Mets bullpen also has summoned its best work for Dickey games. While relievers made Dickey's last two wins extra-exciting by yielding ninth-inning home runs, he still won both games. In his 15 wins that weren't complete games, Mets relievers gave up just 2.6 runs per nine innings, half their season rate. Eight times in Dickey wins they yielded no runs and just once, in win No. 20 on Thursday, did they give up more than a run. ...
Five times, by contrast, Dickey has left the game in line for a loss but was saved because of good hitting and strong relief work. (Overall, Mets relievers have yielded 3.77 runs per 27 outs in Dickey starts and 5.39 runs per 27 outs in all other games.) So Dickey's one lost win is more than offset by five saved losses. On average in the majors, there have been about 1.4 saved losses for every blown win. Dickey, then, got better than usual help from his teammates after he threw his last pitch. Compare that to, say, Kyle Lohse, the St. Louis Cardinal who is competing with Dickey for the NL Cy Young Award. Lohse's 16-3 record is impressive, but he also had seven would-be wins blown by his teammates, who saved three losses. His record with those would be 23-6, compared to Dickey's would-be record of 21-11.
Read more on Dickey in the Record and Star-Ledger.
• Read game recaps in the Star-Ledger, Newsday, Post, Record and Daily News.
• Dillon Gee headed home to Fort Worth after the Mets completed their final homestand, having thrown off a mound this week for the first time since July 13 surgery to repair a damaged artery in his pitching shoulder.
TRIVIA: Which rookies have earned wins for the Mets this season as starting pitchers?
Friday's answer: The Phillies presented Chipper with a painting of one of his at-bats against the team.