WHAT IT MEANS: The Mets are locked into a fourth-place finish in the NL East for the fourth straight season after losing to the Atlanta Braves, 2-0, Saturday night at Turner Field.
Chris Young, a free-agent-to-be, surrendered two runs in six innings to complete his 2012 season. He was outdueled by left-hander Mike Minor.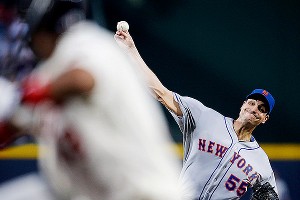 David Goldman/Associated Press
Chris Young finished 2012 having logged 115 innings, his highest total since 2007.
Young has attachments to front-office executives Sandy Alderson and Paul DePodesta from their days with the San Diego Padres, so you cannot completely discount a return next season.
Still, Terry Collins acknowledged pregame that Young is probably only suited for a starting role at this point in his career, having undergone May 16, 2011 surgery to repair a torn anterior capsule in his right shoulder. And Young really does not seem a fit for the 2013 Mets.
Barring a trade or health issue, the projected 2013 rotation is R.A. Dickey, Johan Santana, Matt Harvey, Jon Niese and Dillon Gee. While the Mets could use a veteran safety net to go along with Zack Wheeler, Collin McHugh and Jeremy Hefner, that pitcher optimally would be able to swing to a bullpen role -- long relief or otherwise -- if the projected rotation emerges on Opening Day intact.
Young's final 2012 numbers: 4-9 with a 4.15 ERA. He allowed 119 hits and 36 walks while striking out 80 in 115 innings spanning 20 starts -- an accomplishment since he returned to the majors more quickly than Santana from the same shoulder procedure. The innings total was his highest since logging 173 innings with San Diego in 2007.
Saturday's outing actually cost the Mets $350,000. Young received a $200,000 bonus for making his 20th start and $150,000 bonus for crossing 110 innings.
Young ultimately earned about $2.28 million in 2012.
He had a $1.1 million base salary, which likely was prorated based on his call-up date. So he would have earned $601,000 based on his June 5 addition from the minors. He qualified for an additional $1.675 million in bonus money based on innings logged and games started. (See full contract details here.)
The Mets placed two runners on base in the ninth against ace closer Craig Kimbrel, on an error by second baseman Dan Uggla and when David Wright was hit by a pitch. But Ike Davis struck out as a pinch hitter and Lucas Duda K'd looking to end it.
LARRRRR-RY, LARRRRR-RY: Renowned Mets-killer Chipper Jones is barely making a peep in his series against the Amazin's -- aside from drawing raucous reactions from the crowd of 48,310 every time he appeared Saturday. Jones went hitless in four at-bats Saturday and is now 0-for-8 with seven groundouts through two games. Jones plays his final game ever against the Mets on Sunday afternoon.
WHAT'S NEXT: Jenrry Mejia (1-1, 4.91 ERA) makes his final 2012 appearance. He opposes right-hander Kris Medlen (9-1, 1.64) at 1:35 p.m. Sunday.
The Braves will be bidding for their 23rd straight win in a Medlen start. That would break a three-way tie with Carl Hubbell (1936-37) and Whitey Ford (1950, 1953 -- interrupted by military service) for the longest streak of wins behind one starting pitcher in major league history in the live-ball era.
Collins indicated Wright will be given the series finale off.