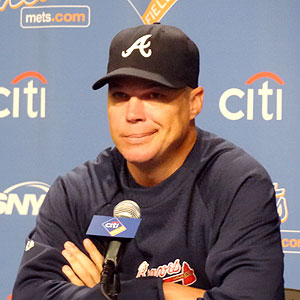 Adam Rubin
Chipper Jones faces the Mets for the final time today.
ATLANTA -- Chris Young surrendered two runs in six innings, but the Mets were blanked in a 2-0 loss to the Atlanta Braves on Saturday night at Turner Field.
The Mets now wrap up their second-to-last series of the season, with Jenrry Mejia (1-1, 4.91 ERA) opposing right-hander Kris Medlen (9-1, 1.64) at 1:35 p.m. Atlanta has won Medlen's last 22 starts, tied for the longest streak in modern-era major league history. The New York Giants won 22 straight starts by Hall of Famer Carl Hubbell in 1936-37 and the Yankees won that many straight from 1950-53 with Whitey Ford starting. Ford's streak was interrupted by two years by service in the U.S. Army.
Chipper Jones faces the Mets for the final time in his Hall of Fame career. His career numbers against the Mets: .308 (264-for-856) with 49 homers and 159 RBIs. The long ball total is tied with Mike Schmidt for the second most ever against the Mets, trailing only Willie Stargell (60). The RBI total ranks third, behind Stargell (182) and Schmidt (162).
Sunday's news reports:
• Columnist Ken Davidoff in the Post says the Cy Young order of finish ought to be: 1. R.A. Dickey, 2. Clayton Kershaw, 3. Johnny Cueto, 4. Gio Gonzalez, 5. Cliff Lee.
Columnist Bill Madden in the Daily News cannot fathom calls for a winner other than Dickey. Writes Madden:
Maybe I'm missing something here. Or maybe I just don't have enough seams in my head. I'm very perplexed with a lot of my baseball writing brethren. Miguel Cabrera and R.A. Dickey have each respectively had phenomenal seasons, MVP and Cy Young-worthy seasons --- seasons we should be celebrating. But instead many scribes and bloggers across the country have taken to disparaging them, especially Cabrera who has fallen victim to that nebulous (I would say ludicrous) new-age sabermetric stat called WAR.
I'll get to that in a minute, but when it comes to Dickey I have to wonder if the stigma of being an unconventional 37-year-old knuckleballer is going to deprive him of winning the National League Cy Young Award, when his winning should be a no-brainer. How else do you explain why so many people seem to be desperately looking for someone else to vote for?
Read more on the Cy Young race, including the case for Braves closer Craig Kimbrel, in the Times.
• Writing for the Daily News, Ron Darling salutes Mets media relations staffer Shannon Forde, who has been diagnosed with Stage 4 breast cancer. Writes Darling:
I don't know how many times I've been at work at the ballpark and I've told someone, "Call Shannon, she'll know the answer," or "Ask Shannon, she'll help you."
Shannon Forde just makes going to the ballpark easy for people in my line of work. She does a very difficult job — 18 years in the Mets' media relations department, from an intern out of St. John's to now senior director — with long, crazy hours. But she always has a smile on her face and a friendliness you don't always find in any job, anywhere. She's always able to take care of something you couldn't or didn't do, whether you are a player or on television.
Now it's time for us to be there for Shannon. On Aug. 2, Shannon, the mother of 4-year-old Nicholas and 2-year-old Kendall, wife of John, and someone dear to all Met hearts, was diagnosed with Stage 4 breast cancer. She's 41 years old. Through it, she has continued to work, but we know she's got a battle ahead of her. I don't think I know anyone who's stronger and we are confident she is going to fight this disease.
A fundraiser will take place Thursday, Nov. 1, at 7 p.m. at Westmount Country Club in Woodland Park, N.J.
You can attend an autograph session for $250 that is scheduled to include Darryl Strawberry, Dwight Gooden, John Franco, Bobby Ojeda, Edgardo Alfonzo, Al Leiter, Ed Charles, Ed Kranepool and Sean Landeta. There is also a dinner emceed by Darling for $100 that includes open bar, cocktail hour, dinner and dancing. Attend both parts for $300.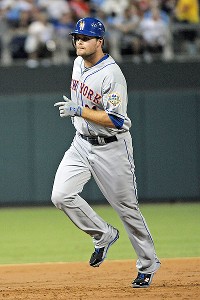 Eric Hartline/US Presswire
Lucas Duda is likely to stick around because the Mets wouldn't receive enough in return in a trade anyway, according to the Post.
For more information or to purchase tickets, please visit www.hopeshinesforshannon.com or contact Debbie Durante at durantedebbie@hotmail.com or 201-906-9255 or Cindy Santos at tripletmomof3@hotmail.com. To make a monetary donation, mail check payable to "Hope Shines for Shannon" to P.O. Box 3145, Point Pleasant, NJ 08742.
• Mike Puma in the Post said the Mets are unlikely to trade Lucas Duda this offseason because he is more valuable to them as a power threat than he would return at this point in a swap.
• Young, who underwent surgery to repair a torn anterior capsule in his pitching shoulder on May 16, 2011, expressed satisfaction about returning so soon after the procedure and making 20 starts this season. Read recaps in Newsday and Daily News.
• Jeurys Familia will start Monday in Miami, followed by Dickey on Tuesday and Jeremy Hefner in the season finale.
• Marc Carig in Newsday profiles Adam Greenberg, who will bat against the Mets on Tuesday -- seven years after his lone major league plate appearance resulted in him getting drilled in the head with a pitch.
TRIVIA: Who drove in the only run on Opening Day?
Saturday's answer: Matt Harvey and Hefner have earned wins as a starting pitcher this season as rookies.