ATLANTA -- Chipper Jones had a quiet weekend before capacity crowds at Turner Field, but the Atlanta Braves nonetheless beat Jenrry Mejia and the Mets, 6-2, Sunday to win the rubber game. Playoff-bound Atlanta, which staved off division-title elimination for another day, won its major league-record 23rd straight game started by Kris Medlen.
The Mets, who had their rookies dress up as referees with skimpy black skirts for the trip to Miami, now open their final series of the season tonight in Miami. Jeurys Familia makes his first major league start tonight in Miami. Familia (0-0, 8.64 ERA) opposes Josh Johnson (8-14, 3.81) at 7:10 p.m. at Marlins Park.
Chief operating officer Jeff Wilpon is due to meet the Mets in Miami, according to Star-Ledger beat writer Andy McCullough.
Monday's news reports: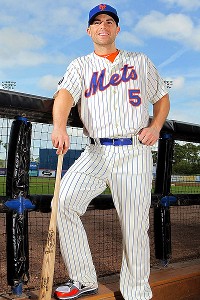 Marc Serota/Getty Images
David Wright wants insight into the Mets' plans for the future before signing an extension.
• In an exclusive interview with ESPNNewYork.com, David Wright expressed uncertainty about his future with the ballclub. He indicated he wants his next contract to take him to retirement. He also noted he would not be inclined to discuss an extension during next season -- so it's an agreement this offseason or he's headed to free agency. Read the news story and additional comments.
Tim Marchman in the Journal makes the case for trading Wright this offseason. Writes Marchman:
A going-nowhere team like the Mets has every reason to move a valuable player like Wright for young talent. Under the new collective bargaining agreement, it no longer will be possible for one team to seriously outbid others for amateur draft picks or international prospects. Recent successes like Matt Harvey aside, the Mets don't have a great record of scouting or developing players, so if they want good, cheap young ones around whom to build a winner, some of them are probably going to have to come from outside the organization.
There are really only two reasons not to trade Wright. One is that it would damage the team's hopes of contending during what's left of his prime, but they don't have any. The other is that it would outrage fans and leave Citi Field quieter than a toaster, but as the Journal has reported, it already is. The only way to win back the public will be to win, and even if the Wilpon family announces tomorrow that the team has been sold to a mad Russian oil tycoon, that's going to take a couple of years, by which time Wright likely won't be what he was.
• Josh Thole was struck in the head with a fourth-inning foul ball off Medlen's bat. Despite initial concerns, Thole appears relatively unscathed. He may have escaped with no more than a cut on the back of his right ear. Read more in the Record.
• Sandy Alderson joined the Mets on Sunday for the final four games of the season. He planned to meet with Terry Collins today or tomorrow in part to discuss the fate of the coaching staff. A team source told Post beat writer Mike Puma it would be surprising for pitching coach Dan Warthen to be dismissed.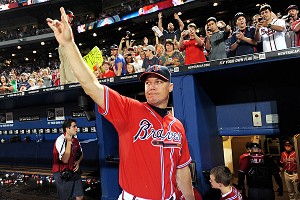 Kevin Liles/US Presswire
Chipper Jones again was treated royally Sunday by Braves fans.
• Mejia allowed a three-run homer to David Ross and was charged with four runs in five innings. Still, the performance was reviewed positively by Collins. Mejia began the year rehabbing from Tommy John surgery. He is due to pitch in winter ball as a starter in his native Dominican Republic for Licey, but will be capped at 20 to 25 innings, Collins indicated. Read more in Newsday, the Star-Ledger, Post, Record and Daily News.
• Chipper finished the weekend 1-for-10 with two walks. His final plate appearance against the Mets -- and, for that matter, his final regular-season plate appearance at Turner Field, since the Braves close the season on the road -- ended with Justin Hampson walking him.
"The word that I've been using all week is overwhelming," Jones told the Atlanta Journal-Constitution about his treatment from Braves fans. "I don't know if I'm worthy of all this. I have my faults and whatnot, but when you've got that much love in the building, you feel like you're 10 feet tall. And when 50,000 people are chanting your name at the same time, that's pretty cool. It makes the hair on the back of your neck stand up. I got chill bumps more than a few times today. And, as much as I tried to shrug it off and downplay it, there were a couple times where it was a little too much to handle." Read more in the Times.
• Familia and Elvin Ramirez are expected to pitch in relief in winter ball for Gigantes in the Dominican Republic.
TRIVIA: Who leads the Marlins in steals this season?
Sunday's answer: Wright drove in the lone run on Opening Day, in a 1-0 win against the Braves on April 5. The RBI single came against Tommy Hanson in the sixth inning and plated Andres Torres.