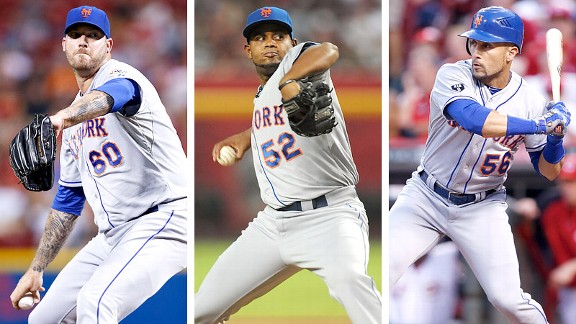 Getty Images
The Mets are expected to part with (l to r) Jon Rauch, Ramon Ramirez and Andres Torres this offseason.
MIAMI -- Mets officials remain optimistic David Wright will be with the organization long term, with the intention of making him an organization ambassador one day, like the ceremonial role Tom Seaver holds.
There should be significant turnover this offseason though, in part through the Mets letting Jon Rauch and Ramon Ramirez depart as free agents and Andres Torres and Mike Pelfrey being nontendered.
Don't even rule out R.A. Dickey being traded this offseason.
Read the major projected offseason news in this article.
As for other maneuvers:
• The Mets shipped Pedro Beato to the Boston Red Sox on Aug. 14 in order to get an up-close look at rental Kelly Shoppach as a righty-hitting catching complement to Josh Thole. The Mets are not enthused enough to jump at re-signing Shoppach, a source said. They first will look elsewhere. But with a tight budget and limited catching supply, Shoppach ultimately could be re-signed since the price may be right, perhaps at about $1.5 million.
• Outfielder Scott Hairston is a free agent, and a team official indicated the Mets would like to re-sign him because of his success against left-handed pitching. However, there is concern Hairston will get a two-year deal elsewhere with a handsome raise from this season's $1.1 million, pricing him out of the Mets' range.
Similarly, Ronny Cedeno likely would be welcomed back in the same backup middle-infield role. But Cedeno fired his agents earlier this season because he thought he merited a starting shortstop job, so he first will shop around for a better and more lucrative playing-time opportunity.
If Hairston departs, the outfield is barren. Kirk Nieuwenhuis, who ended this season on the minor league DL with a partially torn plantar fascia in his right foot, will get strong consideration as the starting center fielder, a team official said. Lucas Duda would man a corner-outfield spot if the Mets do not trade Ike Davis and move Duda to first base. Mike Baxter would return as a backup outfielder.
But that is it as far as outfield depth, so there have to be outside acquisitions.
A team official said the Mets will work hard during spring training with outfield prospect Matt den Dekker to cut down his strikeouts (154 in 533 at-bats between Double-A Binghamton and Triple-A Buffalo this season) to make him a 2013 option. Unfortunately for the Mets, den Dekker is a lefty hitter like Nieuwenhuis. The duo would be a quality platoon if one hit from the right side.
• Lefty reliever Tim Byrdak, whose contract is expiring, likely will be unable to contribute in 2013. He underwent surgery to repair a torn anterior capsule in his pitching shoulder last month. While rookies Josh Edgin and Robert Carson have emerged as viable lefty options in the pen, the Mets also would like to bring in an established southpaw reliever, manager Terry Collins has said.
• The Mets liked Chris Young's finish to the season as he returned from shoulder surgery, so a team official cautioned not to rule out a 2013 return. The complication is Young is ill-suited for relief, so how does Young fit if the Mets' planned five starters barring a trade -- Dickey, Johan Santana, Jonathon Niese, Matt Harvey and Dillon Gee -- all are healthy on Opening Day?
• Team officials maintain anyone will be available in a trade for the right price, with Davis, Dickey, Daniel Murphy, Niese and Bobby Parnell among the pieces that might command the most. The organization, however, is conscious of its lack of power. So team officials recognize they cannot trade Davis, who has 31 homers this season, without getting a comparable power bat in return in that deal or otherwise. The Red Sox reportedly had two scouts at Monday's Mets-Marlins game, with speculation they were watching Davis.
One major complication with the trade route is the Mets likely cannot swap prospects or some of their marketable younger major leaguers in order to acquire an established player. That is because that would require a bump in payroll that is not available, a team official acknowledged.
With Santana and Jason Bay coming off the books after 2013, the Mets will consider signing a free agent to a backloaded multi-year deal with a low base salary next season. Santana and Bay make a combined $50 million next season, including 2014 buyouts. The Mets have no existing payroll commitments except for Niese for 2014.
Still, with even smaller-market teams now retaining their stars at a higher frequency than in the past, the list of quality free agents who would command large, backloaded deals is not lengthy.