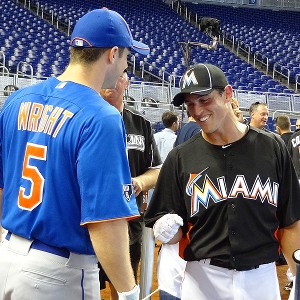 Adam Rubin
Adam Greenberg exchanges pleasantries with David Wright during batting practice Tuesday.
MIAMI -- Jordany Valdespin will play second base in winter ball in the Dominican Republic at the Mets' request, Terry Collins said.
That gives insight into a projected infield role for Valdespin with the 2013 Mets, if he is at the major league level. Valdespin started 26 games in the outfield for the Mets this season, but he actually has started only two games total since returning from the minors once rosters expanded in September.
Also in winter ball, Jeurys Familia actually will serve as a starting pitcher for Gigantes, at the winter-league team's request. The Mets seemed more keen on Familia working as a reliever, which more likely would be his 2013 major league role.
• Collins won't be taking a vacation after Wednesday's season finale. He'll drive up to Port St. Lucie, Fla., and watch the final days of the instructional league. The manager said he particularly wants to see 2011 first-round pick Brandon Nimmo.
• It's just a concept -- not a firm plan -- but the Mets could complete spring training in Las Vegas with a pair of exhibition games against another major league club at the home of their new Triple-A affiliate. The Mets' Grapefruit League schedule currently has open dates on March 29 and 30. The Mets' season opens April 1 against the San Diego Padres at Citi Field.
• Collins was the farm director for the Los Angeles Dodgers in 2006 when Adam Greenberg played 75 games in that organization with Double-A Jacksonville -- the year after Greenberg was struck in the head in his lone major league plate appearance. Greenberg, who has a one-day contract to play for the Marlins on Tuesday night, sought out Collins during batting practice.
• Chad Gaudin and the Marlins bullpen are expected to handle the season finale for Miami. Mark Buehrle will not appear.