WHAT IT MEANS: R.A. Dickey will have to settle for a 20-win season.
Dickey surrendered solo homers to Gorkys Hernandez and Rob Brantly and was charged with three runs in six innings, although he received a no-decision when the Mets rallied for three runs in the eighth.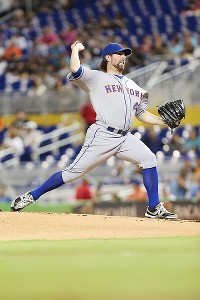 Marc Serota/Getty Images
R.A. Dickey finished the season with 20 wins.The Mets ultimately lost to the Marlins, 4-3, in 11 innings Tuesday night at Marlins Park. Collin McHugh surrendered the game-ending run. Jose Reyes scored after leading off with a triple. Jordany Valdespin, the cutoff man, curiously never made an attempt to throw out Reyes at third on the three-bagger despite a legitimate shot.
Dickey finished the season with a 20-6 record and 2.73 ERA. Dickey's eight strikeouts gave him 230 this season, the most by a Met since David Cone had 241 in 1991. Dickey logged 233 2/3 innings, the most by a Met since Johan Santana tossed 234 1/3 innings in 2008.
Clayton Kershaw (13-9) has an NL-leading 2.58 ERA as well as 221 strikeouts -- nine shy of Dickey's total -- entering Wednesday's scheduled start for the Los Angeles Dodgers. Gio Gonzalez's 21 wins with the Washington Nationals will lead the league.
Dickey was absolved of his first loss against the Marlins in two seasons because of the eighth-inning comeback. He entered Tuesday's outing having won eight straight starts against the Marlins, compiling a 0.92 ERA against Miami during that span. The 8-0 record by Dickey against Miami since the start of the 2011 season matches the second-longest winning streak by a starter against one club in franchise history, one shy of the nine-game winning streak Dwight Gooden produced against the Chicago Cubs from 1988 to '91.
Marlins rookie Jacob Turner took a scoreless effort into the eighth. David Wright broke up the shutout bid with a two-out RBI single against Heath Bell, who had inherited runners at the corners. Bell then tossed a run-scoring wild pitch and surrendered a run-scoring infield single to Scott Hairston, which evened the score at 3.
Josh Thole struck out to strand the bases loaded in the 10th.
GREENBERG DAY: Adam Greenberg, whose lone major league plate appearance back in 2005 resulted in him getting hit in the head with a pitch, got a second chance Tuesday night. Signed to a one-day contract, Greenberg pinch hit in the sixth inning. He struck out on three pitches against Dickey. Greenberg received a standing ovation from the Marlins Park crowd and high-fived his temporary teammates. Greenberg was part of a string of five straight batters Dickey struck out.
WHAT'S NEXT: The Mets conclude their 2012 season at 4:10 p.m. Wednesday. Jeremy Hefner (3-7, 5.32 ERA) opposes a cast of Marlins relievers.