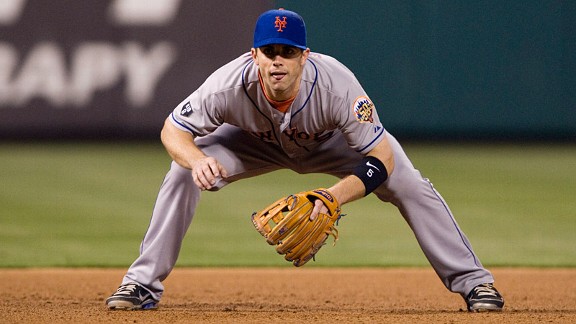 US Presswire/Howard Smith
David Wright was always at the ready at third base in 2012.
David Wright got robbed of an award that was well-deserved.
Despite having what was arguably his best defensive season, Wright lost out to Padres third baseman Chase Headley for the NL Gold Glove award at that position.
Headley's edge over Wright comes on the basis of the most basic defensive stat- fielding percentage. He finished tied for second with Ramirez with a .977 fielding percentage. Wright was right behind them at .974.
David Wright vs Chase Headley
2012 Season (Defense)
Headley and Wright finished with the same number of errors (10), but Headley finished with 41 more chances than Wright did.
However, when you dig into the advanced stats, this vote makes little sense. Wright easily ranked as the NL's top third baseman by both of the primary advanced defensive statistical measurements.
Defensive Runs Saved and Ultimate Zone Rating both go beyond the basics in assessing defensive value. They credit players for their rate of turning batted balls (not just the ones they fielded) into outs, converting double plays, and defending bunts.
Wright's 16 Defensive Runs Saved were double that of the player with the next-most, Dodgers third baseman Luis Cruz (who only played 427 innings at the position).
Wright's 15.4 UZR was nearly double that of Aramis Ramirez of the Brewers, who finished second in that stat at third base with an 8.2.
Headley actually rated as a negative defender by Defensive Runs Saved, with his work viewed as having cost the Padres three runs. In Ultimate Zone Rating, he fares considerably better (6.0) but still rates fifth-best in the NL, well behind Wright.
Wright's primary edge was in that he turned batted balls into outs with a better success rate than Headley, even though Headley finished with considerably more assists.
In other words, Wright was getting to balls that Headley (and other third basemen) wouldn't and turning them into outs.
Wright's Best Glovework
Defensive Highlights
There is further proof of this in the video-review work done by Baseball Info Solutions (whose founder, John Dewan, created Defensive Runs Saved).
The staff at BIS tracks every play of every game and sorts them into 30 categories of Good Fielding Plays (GFPs) and more than 50 categories of Defensive Misplays & Errors (DM&E). It's a form of scoring that goes beyond the basics of the official scoring system.
Wright had 61 GFPs, 42 of which were the result of making plays on ground balls, line drives, or popups. That 42 ranked second in the majors to Nationals third baseman Ryan Zimmerman (who had 61, but whose other defensive issues hurt his chances of winning a Gold Glove).
Headley had 45 GFPs, 33 of which came via ground ball, line drive or popup.
Wright also bettered Headley in terms of misplays and errors. Wright finished with 32 DM & E, seven fewer than Headley.
The advantage for Wright came in three areas that would seem pretty important when evaluating defense.
Wright was charged with 14 DM&E in the following three categories "bobbling a ground ball/losing a potential out" "having a ground ball go through an infielder" and "failing to catch a line drive."
Headley had 22, eight more than Wright.
Wright can take consolation in that he did finish as the highest-rated NL third baseman in the Baseball Info Solutions Fielding Bible Awards (of which this author has one of 10 votes, along with Doug Glanville, Peter Gammons and other baseball media members).
He finished fourth overall in that balloting, which gives one award per position (the winner was Rangers third baseman Adrian Beltre). Headley placed 12th, fifth-best in the NL.