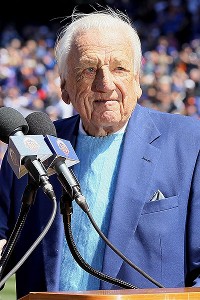 Jim McIsaac/Getty Images
Ralph Kiner turned 90 Saturday.
Hall of Famer Ralph Kiner turned 90 Saturday. Kiner continues to broadcast Mets games part time.
Kiner last played in the majors in 1955.
He joined the Mets' broadcast team for the inaugural season, in 1962. His No. 4 is retired in Pittsburgh.
Jon Niese (26) and Ruben Tejada (23) also celebrate birthday's Thursday. Niese was born on the day the Mets last won a championship -- with a Game 7 win in the World Series on Oct. 27, 1986.