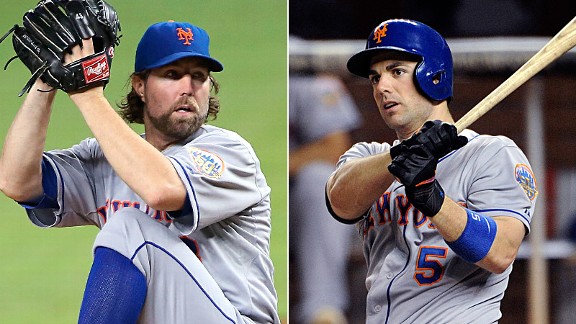 Getty Images
Barring extensions sooner, R.A. Dickey and David Wright are due to have their 2013 options locked in this week.
The completion of the World Series on Sunday night does have a modest impact on the Mets.
Industry-wide, options for 2013 need to be exercised within five days of the end of the World Series. That means David Wright and R.A. Dickey are due to have their options picked up this week.
In Wright's case, his $16 million team option for next season actually needs to be exercised within three days after the World Series, per his contract. Dickey's $5 million option must be picked up on or before five days after the World Series, which is the industry standard.
The Mets would like to sign both players to longer-term extensions. But given a recent report indicating no figures had been exchanged, it would appear logical for both options to be picked up in the interim while talks get more involved.