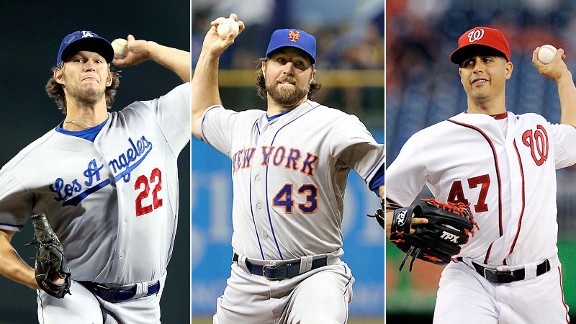 Getty Images/US Presswire
R.A. Dickey won the Cy Young, topping runner-up Clayton Kershaw (left) and third-place Gio Gonzalez (right).
R.A. Dickey is the NL's 2012 Cy Young winner. Dickey received 27 of 32 first-place votes.
Clayton Kershaw finished second, followed by Gio Gonzalez.
"Clayton and Gio were both just supernatural in the way that they perform," Dickey said. "I've had to hit against them both, and it is ridiculous trying to pick up the ball on those guys. They gave everybody fits. Just being mentioned in the same breath as those guys is an honor.
"But, for me, this is an honor to be shared. It's a great honor. And I am not a self-made man by any stretch of the imagination. There have been countless people who have poured into me in a way that has changed my life -- not only on the field, but off. A few of those men are some of the knuckleballers that have had incredible seasons that didn't necessarily get acknowledged for their feats: Phil Niekro, Tim Wakefield, Charlie Hough. I mean, this is a victory for all of us. And, not to mention, the New York Mets fan base."
Read the full news story here.