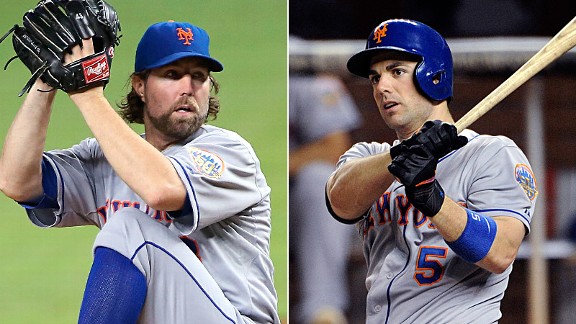 Getty Images
Jeff Wilpon said it would be preferable for R.A. Dickey and David Wright to play out options rather than trade them.
Despite losing Jose Reyes a year ago with only draft-pick compensation, chief operating officer Jeff Wilpon maintained Tuesday that the Mets' preference would be to have David Wright and R.A. Dickey play their option years with the club rather than trade them this offseason.
Of course, Wilpon noted, the ultimate priority is to sign both to extensions.
"We hope to have a resolution," Wilpon said. "And you know what? Part of that resolution might be that we get deals done with both of them or one of them. Part of that might be that they both come back and play for us next year. They're both under contract. This is not a free-agent situation. This is not an arbitration situation. They're both under contract. We have all the flexibility in the world with that.
"Or Sandy [Alderson] could decide that, gee, we trade one or both of them. That's not where we're at. Right now the process is ongoing. And I think that's the best way to characterize it."
Asked about his level of optimism in reaching extension deals, Wilpon said: "Certainly, it's gotten better, because there's conversations going back and forth. So when you look at it from the end of the season when you didn't really know how they were going to accept or look at how we were positioning things and they were positioning things, there's more optimism."
Wilpon added that the "first preference" is to reach longer-term deals with both players.
"That has been the first preference," Wilpon said. "The second preference is probably to keep them and have them play out the season. The third preference would be to trade them. They're both important to the franchise and fan favorites. So we'd like to keep it that way."
Reminded that the Mets lost Reyes for only draft picks after letting him play out his option season and then failing to re-sign him, Wilpon said: "We're dealing in hypothetical now, so I don't want to go there. In terms of right now, the process is ongoing and we want to get something done."
The Mets already have picked up Wright's $16 million option and Dickey's $5 million option for next season.
"The process is ongoing," Wilpon said. "That's all I can say. I know there's some misconception in the marketplace about what's going on, and that's because we're not talking and the other sides are not talking [to the media]. The ability to do this in a way we want to do it and they want to do it is what we're doing. I don't want to get into where we are, what offers have been there, what haven't. The process is ongoing. It's a good process right now."