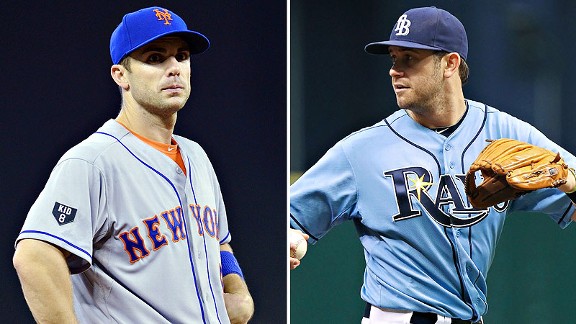 US Presswire
David Wright remains only under control through 2013. Evan Longoria is now locked up with the Rays through 2022.
Tampa Bay Rays third baseman Evan Longoria has signed a six-year, $100 million extension on top of the four years he already was under the club's control. So the new deal keeps Longoria with the Rays through the 2022 season and age 36.
What does that mean for David Wright?
Stating the baseline for a new deal for Wright should be Longoria's six-year, $100 million extension would seem off base. After all, Longoria's extension doesn't start until 2017. That means the Rays are getting a discount because they're assuming more risk than the Mets would with Wright. Any Wright extension would begin in 2014, after the current $16 million option for next season.
Bottom line: The Rays are now committed to Longoria for another 10 seasons.
Wright does, though, turn 30 on Dec. 20.
Over the past two seasons, which incorporates missed time for both players, Longoria has hit .261 with 48 homers and 154 RBIs in 756 at-bats. Wright hit a combined .286 with 35 homers and 154 RBIs in 970 at-bats during that span.