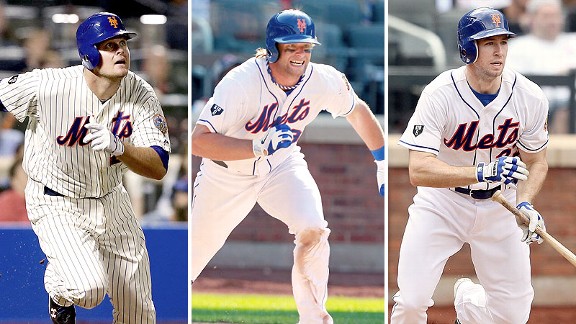 Getty Images
The Mets' starting outfield as of today would be Lucas Duda, Kirk Nieuwenhuis and Mike Baxter.
The Mets have several offseason needs, but the agenda item on the front burner at next week's winter meetings will be the outfield, according to sources briefed on the Mets' plans.
If the season started today -- and obviously it doesn't -- the starting outfield likely would be Lucas Duda in left field, Kirk Nieuwenhuis in center field and Mike Baxter in right field. That's all lefty hitters. And none has yet established himself as a full-time player. (The Mets plan to cut loose Andres Torres by Friday's non-tender deadline.)
The second priority for the club is to sign a righty-hitting catcher. The Mets have claimed Anthony Recker off waivers from the Cubs and re-signed Mike Nickeas to a minor league deal, but the organization would prefer an established righty-hitting catcher to pair with Josh Thole.
The club also has to seriously upgrade the bullpen, but that is expected to wait until closer to spring training, with the Mets searching for bargains after overspending on Frank Francisco (owed $6.5 million in 2013) as well as Jon Rauch and Ramon Ramirez last offseason. Rauch and Ramirez currently are free agents. And with those two gone -- and Tim Byrdak (re-signed on a minor league deal) likely unavailable until at least the second half following shoulder surgery -- the Mets have to fill at least three holes.
Currently, Bobby Parnell would be the top set-up option to Francisco, with young Josh Edgin and Robert Carson as the left-handed options. The Mets also could put Jenrry Mejia and/or Jeurys Familia in the 2013 bullpen.