The Mets enter the winter meetings under the assumption they will not be wheeling and dealing trade-wise, and that their Opening Day rotation will be the current crop -- R.A. Dickey, Johan Santana, Matt Harvey, Jonathon Niese and Dillon Gee, according to a source aware of the organization's planning.
The lone foreseeable deviation from that intention to leave the rotation intact, the source added, was if a team spurned in the Zack Greinke bidding decides to overbid in a trade proposal to compensate for the failure to sign the free-agent ace.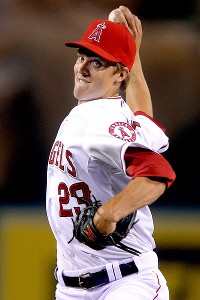 Mark J. Terrill/Associated Press
Zack Greinke's free agency actually has some influence on the Mets' offseason. If a team that loses out on Greinke makes an aggressive trade proposal, the Mets could part with a starting pitcher.
"If one of the teams that doesn't get him peels off and really is looking to overpay because they need a starter, that could change that. That's a scenario that could play out," a source said.
Talks with Dickey are described as "progressing."
OUTFIELD: The Mets would like to add two outfielders, both righty hitters, since Lucas Duda, Kirk Nieuwenhuis, Mike Baxter and even Jordany Valdespin are lefty hitters, a team insider confirmed.
Team officials are not resigned to free-agent Scott Hairston departing, but he may get too expensive.
"He's looking around, obviously," said a source familiar with Hairston's demands. "He wants to see what there is. It's a funny market, that second tier. You just don't know where it is. It still has to play out."
Regardless, the Mets would like one of the two outfield signees to be a starter, and the other at least an option to platoon with Nieuwenhuis and/or Baxter. The financial reins are loose enough that the contract for the starting outfield signee can be multiple years. It may or may not be a "name" player, depending on how the market takes off.
"Outfield is definitely the priority," a team insider said. "I don't think we're going to go in thinking we're going to bottom feed, at least at this point."
Despite the hullabaloo late in the season about potential trades, the Mets now expect the bulk of their winter additions to come via free agency, not deals. In fact, no notable trade may materialize at all.
CATCHER: On adding a righty-hitting catcher, free-agent Kelly Shoppach remains an option, even if he is not the priority. He was described by a source as "not totally off the table."
BULLPEN: The Mets enter the winter meetings planning to wait out the reliever market. After getting burned on bad returns last year with Frank Francisco, Ramon Ramirez and to some extent Jon Rauch, they expect to scoop up cheaper inventory late in the offseason and hope they hit a jackpot. Then again, an insider cautioned, the Mets are constructing an internal order of preference, and they could jump if someone high up on their sheet is available even next week at the right price, so the waiting is not totally set in stone.
Team insiders do acknowledge they need to sign at least two relievers -- one of whom is capable of vying with Bobby Parnell for eighth-inning work. The organization feels like they have some flexibility in the middle innings, where Jenrry Mejia and/or Jeurys Familia could pitch in.