Mike Pelfrey, the ninth overall pick in the 2005 draft, has been non-tendered by the New York Mets and expects to pitch elsewhere next season, he told ESPNNewYork.com.
Pelfrey made three starts this past season before undergoing May 1 Tommy John surgery. He already has thrown a 105-pitch session this week at his alma mater, Wichita State, including 60 pitches to hitters, and expects to easily be ready for next season.
Pelfrey made $5.6875 million in 2012. He had been eligible for arbitration for a final time this offseason.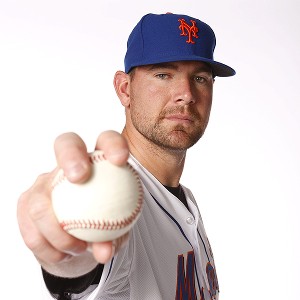 Nathan Bolster/MLBPA via Getty Images
Mike Pelfrey has been non-tendered by the Mets.
Center fielder Andres Torres ($2.7 million salary in 2012) and right-hander Manny Acosta ($875,000) also have been non-tendered tonight. Torres arrived last offseason with reliever Ramon Ramirez from the San Francisco Giants for outfielder Angel Pagan in an ill-fated swap.
Arbitration-eligible players who are tendered contracts by the midnight deadline must receive at least 80 percent of their previous year's salaries, and rarely receive any reduction. By cutting Pelfrey loose, the Mets are free to sign him for any amount.
Manager Terry Collins said during the final week of the season he would be eager for the organization to bring back Pelfrey as a reliever.
Still, Pelfrey indicated he is strongly inclined to consider only starting roles, although he and agent Scott Boras have not had in-depth discussions about that issue. Pelfrey finds it difficult to foresee re-signing if the Mets show interest unless one of the established starters -- R.A. Dickey, Johan Santana, Jonathon Niese, Matt Harvey or Dillon Gee -- is traded.
"For me, I prefer to start," Pelfrey said. "I haven't really had a whole lot of discussions with [Boras] about that. I know they kind of mentioned it doesn't make sense to have Tommy John and then go to the bullpen. For me, my first option would be to start. I feel like I can give a team 200-plus innings, which is pretty valuable.
"Coming off surgery, the biggest thing for me is I need to pitch. Coming into camp as the extra guy is not something I would want to do. … I didn't work that hard to be an extra guy. I want to take the ball every fifth day. Obviously, numbers-wise, if they have five starters, I wouldn't come back. … If the Mets have five starters, I guess I'll end up pitching somewhere else."
Despite his departure, Pelfrey expressed appreciation to the lone organization he has known in his eight seasons as a professional ballplayer. Pelfrey, 28, produced a 50-54 record and 4.36 ERA in 153 appearances (149 starts) for the club.
"I want to thank the organization for giving me the opportunity," Pelfrey said. "It was my first opportunity. They stuck by me through some good times. They stuck by me through some bad times. I appreciate everything they've done for me. I wish them nothing but the best in the future. I don't know what's going to happen with my future, but whatever transpires, as long as I'm not playing against them, I'll be rooting for them and I wish them the best of luck."
Pitchers often take a full year to recover from Tommy John surgery, but Pelfrey insisted he would be ready for game action by January and is actually going to back off throwing slightly so he comes into a camp in February going full throttle but not sooner.
"The most important thing is for me to be healthy," Pelfrey said, "and I honestly believe I'll have an opportunity to pitch somewhere. I just want to pitch. I'm on track for Jan. 15. So everything is going well. Tim Hudson came back in seven months [from Tommy John surgery]. Joba Chamberlain last year came back in eight before he broke his ankle. And I'll be about eight and a half or so. I'll definitely be ready when spring training rolls around."