NASHVILLE, Tenn. -- After arriving at the winter meetings, GM Sandy Alderson offered an overview to beat writers of the Mets' agenda going forward.
Much of the talk centered on R.A. Dickey. The primary points:
• The Mets will talk to teams about Dickey during the winter meetings.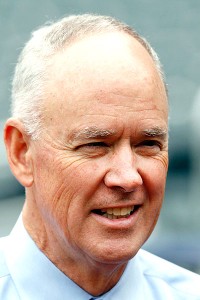 William Perlman/US Presswire
Sandy Alderson addressed the Mets' offseason on Sunday, after arriving at the winter meetings."Well, we expect to talk to a lot of teams about a lot of different things," Alderson said. "That's why we're here -- to explore various combinations. I would suspect, yes, we will have conversations about R.A. That doesn't mean we would prefer to go in that direction or reconcile to go in that direction."
• Alderson met for 10 minutes with Dickey at the Gaylord Opryland Hotel on Sunday afternoon, but suggested the meeting was social and noted it would be inappropriate to talk finances without Dickey's representative present.
"I don't negotiate directly with R.A. That would not be professional under the circumstances. He's represented," Alderson said. "So there never was any intention of having that conversation here today. On the other hand, we continue to have conversations with his agent. I would expect that we'll see him some time during these three or four days. When, exactly, I'm not sure."
• Alderson said he did not necessarily need a resolution on Dickey by the conclusion of the winter meetings Thursday, although he hoped for more clarity.
"I think it's possible," Alderson said about a resolution before the meetings conclude. "On the other hand, it could go on for a while. I just can't predict. ... R.A's situation needs to be resolved, but it doesn't necessarily have to be resolved here in Nashville before Thursday. I think we'll have a lot more information by the end of Thursday both in terms of his negotiation as well as other options. But I don't think we have to have resolution by Thursday."
• Alderson said the sides are not at an impasse.
"I don't think we've gotten to the point where we have two positions that can't be bridged," the GM said. "We may get to that point. But I don't think there's been enough to and fro at this point to know that. As you know, we've had two negotiations going on at the same time. When one gets close to culmination, it tends to get most of your attention. That's probably been true over the last four or five days. But we've had good dialogue and expect to have more of it over the next four days or so."
• Asked about Dickey's popularity being a factor, Alderson said: "He does have a certain notoriety. I don't think we would rely on his ability to sell tickets as a motivator. But this is the entertainment business. And his uniqueness contributes to that, as well as the baseball result on the field. So there are positives in that regard."
• Alluding to the talks with Jose Reyes last year, the GM quipped regarding Dickey: "I haven't resorted to the chocolate box yet."
• Contrasting Jeff Wilpon's recent comments that the Mets could keep Dickey into next season without the knuckleballer signing an extension beyond 2013, Alderson portrayed that as an unappealing scenario.
"I wouldn't say it's an ideal situation for him or for us, in part because we'll be talking about this for the next 11 months," Alderson said. "That's a situation I'd prefer to avoid and see if we can't focus on the team on the field as opposed to some of these other ancillary topics. At the same time, yes, we could go into the season under those circumstances. He'd make us better in '13. So it is an option. But it comes with a certain amount of inherent distraction."
• Alderson added that it would be difficult to address all of the Mets' needs via free agency given the payroll constraints and still sign players who perform at a high-enough level. Therefore, he intimated, some trade likely would need to occur in order to round out next season's roster -- even if free agency were the preferred route to fill holes.
"We'll know more in two or three days," Alderson said. "I mean, I think there are free agents out there who can help us, who are in our price range. Whether we're able to fill all of our needs through free agency, I think, is a separate question. I'd say probably unlikely, depending on what our standards are for the outfield, catching, relief pitching, etc., etc."