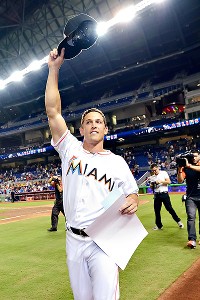 Steve Mitchell/US Presswire
Adam Greenberg struck out on three pitches against R.A. Dickey on Oct. 2.
NASHVILLE, Tenn. -- Adam Greenberg, who struck out against R.A. Dickey during the final series of the season, is due to meet with the Mets -- presumably about a minor league contract, Greenberg tweeted. He also had an appointment scheduled with the Marlins.
Greenberg's lone previous major league plate appearance came back in 2005 and resulted in him getting hit in the head with a pitch. He subsequently experienced vertigo and ended his baseball career in 2009 after toiling in independent ball.
The Marlins signed Greenberg -- who hails from Connecticut -- to a one-day contract and allowed him to pinch hit against Dickey on Oct. 2.