NASHVILLE, Tenn. -- During a Tuesday afternoon briefing with beat writers, Sandy Alderson was point-blank asked if the bridge between the Mets and R.A. Dickey's demands can be bridged.
"I think that remains to be seen," Alderson said.
Still, Alderson added, the sides were not yet at an impasse on a contract extension.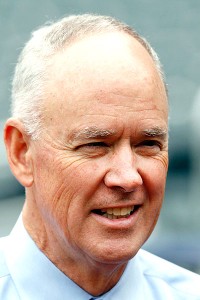 William Perlman/US Presswire
Sandy Alderson met briefly with R.A. Dickey's agent in the parking lot Monday."I don't think so," the GM said. "At this point I don't think we've reached the point where there is some possible compromise. But time will tell."
How determined are the Mets to trade Dickey?
Asked if he would still pursue dialogue about the knuckleballer with other clubs if Dickey's agent said today he would accept the Mets' offer, Alderson said: "That would be speculation. I think we've always said we'd like to sign R.A. and keep him in New York. So assuming that sentiment remains the same, that would probably close the door.
"Something could happen on either front that would bring all of this to a conclusion presumably," Alderson continued. "I don't think that's going to happen today. It may not happen tomorrow. It may not happen in Nashville. So it's really hard for me to guess where this is ultimately going. But the sentiment that we've had from the beginning I think remains the same -- we'd like to have him in New York. …
"I do think that there is a natural conclusion that all this will have. You can only keep things on the table for so long. There will come a time when this will be resolved. … It will come to a conclusion. Otherwise it becomes exhausting.
"We know a little bit more about the trade market, but not a great deal.
"Look, is he going to win the Cy Young next year? Odds are, not. But it's not about performing to the same level he did last year necessarily. But if you look at his three-year performance, or the last three years and compare it to almost any pitcher in baseball, it's pretty good."
Told that sounds like a pitch Dickey's agent would make to the Mets, as well as a pitch the Mets make to other clubs in trade talks, Alderson agreed.
"Yeah, I've heard that argument," Alderson said. "That's sort of the nature of pursuing things on parallel tracks. You get on both sides of the argument, which is nice."