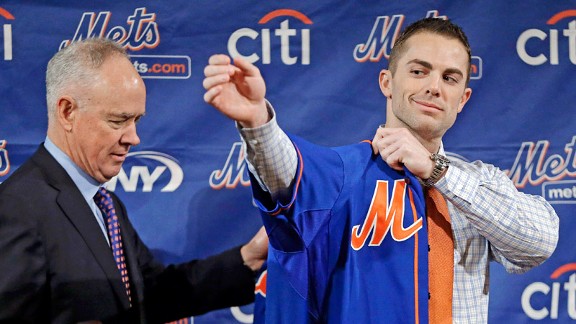 Mark Humphrey/Associated Presss
David Wright slips on the 2013 Mets blue jersey at the winter meetings after the formal announcement of his new contract.
NASHVILLE, Tenn. -- David Wright and the Mets held a formal news conference at the winter meetings Wednesday to announce his eight-year, $138 million deal. The main points:
• Wright has full no-trade protection from the outset of the contract. (He already was due to get those rights midway through the 2014 season, when he reached 10 years of major league service.)
• Wright will be named captain in spring training, once teammates give their blessings.
• He deferred money from the $16 million owed in 2013 under the preexisting deal -- reportedly half -- in order to increase the Mets' payroll flexibility for other maneuvers.
• Wright said it was important to be a lifelong Met, as Cal Ripken Jr., Chipper Jones and Derek Jeter have been with their clubs.
• He met with GM Sandy Alderson shortly after the season and got precise payroll projections, free-agent targets and prospects years out to ensure they had a plan to return to winning.
Read the full news story here.