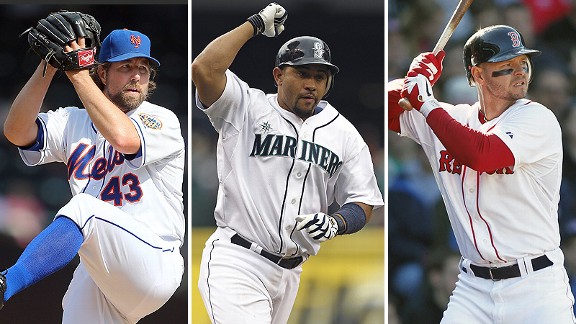 Getty Images
At this point, the Mets' wish list appears to include resolving R.A. Dickey's situation, signing Miguel Olivo and adding a righty-hitting outfielder such as Cody Ross.
NASHVILLE, Tenn. -- The Mets, as they maintained would be the case, did not select a player for themselves in the major league phase of the Rule 5 draft Thursday morning, which wrapped up the winter meetings. (They did select left-hander Kyle Lobstein, but he is headed to the Tigers in a prearranged deal for modest cash.)
Other than formally introducing David Wright, who gave a hearty endorsement of the plan going forward, the Mets (like the Yankees) overall had a quiet week.
The same work remains to be done as when they arrived:
• Resolve the R.A. Dickey situation.
• Find a righty-hitting catching complement for Josh Thole.
• Add two righty-hitting outfielders.
• Retool the bullpen leading into Frank Francisco.
Mets insiders continue to portray it more likely that Dickey stays than goes in a trade -- with or without a contract extension beyond 2013.
The Los Angeles Dodgers could be a wild card, though. If they lose out on Zack Greinke to the Texas Rangers and miss out on Korean left-hander Ryu Hyun-jin or free-agent Anibal Sanchez, too, they likely would engage the Mets about Dickey. (L.A. wants to add two frontline pitchers -- preferably hard throwers.)
Miguel Olivo appears the top free-agent target for the Mets at catcher. Sandy Alderson said a trade was unlikely to materialize. The GM added that the Mets may be forced to go with Anthony Recker, who was a waiver claim from the Chicago Cubs.
Scott Hairston and the Mets still could work out a deal. The remaining free agents that fit the Mets' profile appear to include Cody Ross, Jeff Baker, Matt Diaz, Reed Johnson and Austin Kearns.