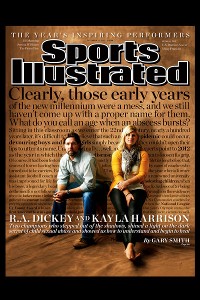 Courtesy of Sports Illustrated
R.A. Dickey appears on the Sports Illustrated Cover this week.
R.A. Dickey is joined by 2012 Olympic judo gold medalist Kayla Harrison on the cover of this week's Sports Illustrated.
Dickey, who discussed sexual abuse he suffered as a child in a spring-training interview after releasing his memoir, also addresses the issue with the magazine.
"My heart broke for those boys in the Penn State scandal because I knew what they would be up against," Dickey told SI. "And then … I felt for Jerry Sandusky because of what happened to him in his life. The toxicity of it all is so frightening. It energized me, made me see that there's a real need for activism. The taboo's been breached. Finally the elephant in the room is out -- it's raising its trunk and bellowing."
Dickey plans to take his family to India for a week in January to aid sexual abuse victims.