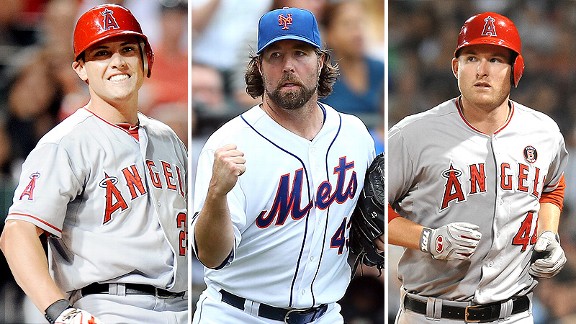 US Presswire
Young outfielder Mark Trumbo (right) or Peter Bourjos (left) could be expendable and swapped for R.A. Dickey now that the Angels are landing Josh Hamilton.
With ESPN's Jerry Crasnick reporting the Los Angeles Angels are landing free-agent Josh Hamilton on a five-year deal after a stealthy pursuit, two national baseball writers wonder if that will grease the wheels for R.A. Dickey to wind up in Anaheim, too.
The Post's Joel Sherman and CBS's Jon Heyman speculate on Twitter that Hamilton to the Angels potentially would free up the club to send Mark Trumbo or Peter Bourjos to the Mets in a swap for Dickey.
The Mets, as has been well-documented, desperately need a righty-hitting outfielder with power.
Trumbo, 26, hit .268 with 32 homers and 95 RBIs in 544 at-bats last season and would seem more in line with the Mets' needs. Bourjos, 25, hit .220 with three homers and 19 RBIs in 168 at-bats.
UPDATE: Buster Olney tweets: "Other teams asked about Mark Trumbo, and been told that he's not available; the Angels have said they are keeping him."
And Heyman tweets: "Angels could also decide to trade Kendrys Morales instead of Bourjos and Trumbo sice KM is 1 yr from FA. Trumbo could DH."