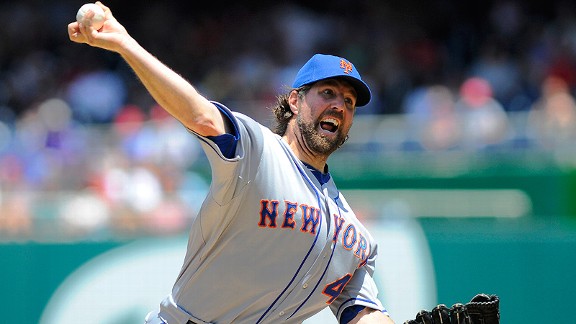 Brad Mills/US Presswire
R.A. Dickey will become the fourth reigning Cy Young winner in major league history to open the following season with a new team via trade.
Here's what baseball columnists are writing about the impending trade of R.A. Dickey ...
Ken Davidoff, Post:
The Mets made the bold decision to trade Dickey because they appreciated the folly of making moves solely through the prism of ticket sales and public relations. Tickets will be purchased to watch a good team. The Mets' best chance at fielding a perennially good team is to sell high on what amounted to found money; Dickey arrived ready to blossom, requiring no real costs for research and development.
The club achieved the "high" portion of "sell high" when the going-for-it Blue Jays agreed to part with a package that appears to include catching prospect Travis d'Arnaud and pitching prospect Noah Syndergaard. Once Toronto hit that price point, it would have been irresponsible for the Mets, who understand they have considerably more work to do, to hold on to their icon."
Bill Madden, Daily News:
Nobody had to tell Sandy Alderson that this was going to be the defining trade of his administration as the anointed, hoped-for savior of the Madoff-mired Mets. This was -- for all intents and purposes -- his Gary Carter trade.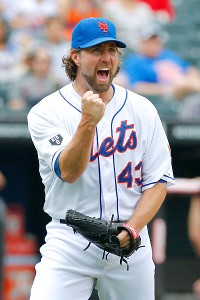 Paul J. Bereswill/Associated Press
Dickey is a contract extension away from becoming a Blue Jay.
Two years into the job as Mets GM -- an appointment that was brokered by commissioner Bud Selig to help restore some credibility to a franchise engulfed in debt, scandal and losing -- progress has been slow, with back-to-back fourth-place finishes and a starting lineup with gaping holes at all three outfield positions, as well as a significant deficiency at catcher.
In the popular National League Cy Young Award winner, R.A. Dickey, Alderson had but one prime trading chip, just as Frank Cashen, 28 years ago, coming off five straight last or next-to-last place seasons as Mets GM, had only one prime trading chip in the equally popular third baseman/shortstop Hubie Brooks.
Alderson knew the consequences of trading a player of Dickey's caliber, especially for the short-term, which is why he could not accept anything less than top quality "futures" talent in return, and why he didn't get really serious about a deal until the Toronto Blue Jays gave in and agreed to surrender 23-year-old Travis d'Arnaud, widely regarded as the top catching prospect in all of baseball.
Tyler Kepner, Times:
Leave it to the Mets to botch something easy, like Luis Castillo dropping a pop-up with two outs in the ninth. When the best pitcher in the National League wants to stay with you for three more years, at a steep discount, you let him stay. Why is this so complicated?
By trading Dickey to the Toronto Blue Jays, pending the negotiation of a contract extension, the Mets essentially told their fans that they do not expect to contend for the next three years. The Mets have already staggered through four consecutive losing seasons, three shy of the franchise record. Now the wait to be relevant drags on.
Say this for General Manager Sandy Alderson: he has guts and conviction. When Alderson came to the Mets in October 2010, with Commissioner Bud Selig's encouragement, he was charged with reviving a team bleeding cash and saddled with overpaid, decaying players. He was bound not by sentiment, only by a duty to make the team better for the future.
Along the way, Alderson got a gift in Dickey, a holdover from his predecessor, Omar Minaya. Alderson astutely signed Dickey to a two-year, $7.5 million contract, with a $5 million club option for 2013. Dickey, after winning the Cy Young, asked for two more years and $26 million, a bargain in the current market. The Mets traded him instead.
Bruce Arthur, National Post, Canada:
This is what they are. They are not waiting for players to develop anymore, for the crop to come in. They added US$166-million in contract commitments when they raided Miami for Jose Reyes, Josh Johnson, and Mark Buehrle, and that's before a Johnson extension is discussed. They threw another US$16-million at Melky Cabrera. Dickey is 38 years old, but he's great right now. Now, to Toronto, is what matters.
And if it didn't, then they would be going the other way. They would be trading Jose Bautista (32) or Buehrle (33). They would be restocking the minor leagues, rather than using them as currency. At this point, the Jays are either in or they're out, and clearly they're in. D'Arnaud and Syndergaard might be good major leaguers, but it won't be this year, and it might not be next year. Next year, they don't help.
Dickey does. The deal hinges on him, obviously, and if his knuckler loses its fairy dust then it's a bust, and Anthopoulos will get killed for chasing the wrong guy. That's fine.
But Dickey's magic seems replicable, which means the rotation could go Dickey, Johnson, Brandon Morrow, Buehrle, and Ricky Romero.