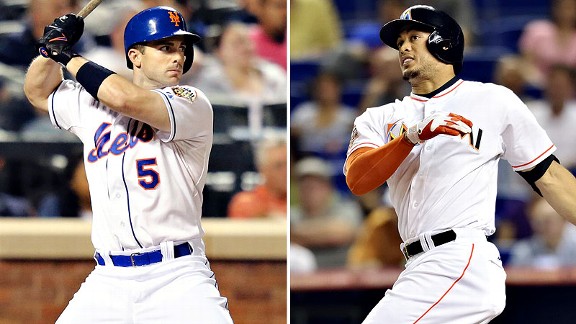 USA Today Sports
David Wright and Giancarlo Stanton are the highlights of their respective NL East lineups.
The R.A. Dickey trade obviously brightens the Mets' long-term prospects. But what about 2013?
The consensus seems to be the Miami Marlins are destined for last place, with the Mets slotting into fourth. Take a look at the comparative lineups, which feature Giancarlo Stanton and David Wright, then a drop in talent.
Miami is still looking for a low-cost third baseman, while the Mets still need to add at least one righty-hitting outfielder capable of starting as well as a veteran challenger for Jenrry Mejia as fifth starter.
The departed Dickey, it should be noted, is 10-2 with a 2.87 ERA in 15 career appearances (13 starts) against the Marlins.
Marlins projected lineup
Juan Pierre, lf
Donovan Solano, 2b
Justin Ruggiano, cf
Stanton, rf
Logan Morrison, 1b
Rob Brantly, c
Greg Dobbs/Kevin Kouzmanoff, 3b
Wade LeBlanc/Alex Sanabia/Brad Hand/Tom Koehler
Steve Cishek, closer
Mets projected lineup
Ruben Tejada, ss
Daniel Murphy, 2b
Wright, 3b
Ike Davis, 1b
John Buck, c
Lucas Duda, lf
Mike Baxter, rf
Kirk Nieuwenhuis, cf
Mejia
Frank Francisco, closer