ESPN's Keith Law offers this review of right-hander Noah Syndergaard and Wuilmer Becerra, the prospects who joined Travis d'Arnaud in landing with the Mets: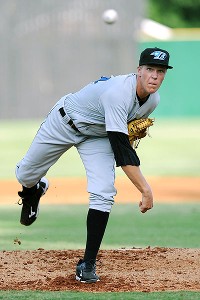 Tony Farlow/Four Seam Images via AP Images
Class A right-hander Noah Syndergaard joined the Mets in Monday's trade.
The Mets ... get a wild-card pitching prospect in Noah Syndergaard, a big kid who looks the part of a starter but doesn't have the repertoire to be more than a back-end guy yet. Syndergaard has touched 100 mph as a starter, and will comfortably work from 92-97, flashing an average to above-average changeup and showing a very smooth, easy arm stroke that he can repeat without much difficulty. The Jays have worked with him for two-plus years to develop an average breaking ball, but he has yet to find one; you could grade his curveball as potentially above-average, and he has the high slot for it, but if he doesn't have that laxity in his wrist there's a good chance the pitch never gets there.
He's a solid acquisition for the Mets because of his size, delivery, and easy velocity, but he's also very high-beta and could end up a back-end guy or even a reliever if that third pitch doesn't make some major strides.
The third prospect turns out to be significant, which is counter to early rumors that he was a throw-in. Wuilmer Becerra got $1.4 million from Toronto out of Venezuela in 2011, and he's had just 39 pro at-bats, with his 2012 season shortened by a broken jaw after being hit in the face by a pitch. He has a sweet-looking right-handed swing with strong hands, keeping his head steady with great hip rotation and loft for future power as his body matures.
He should have the arm for right field, although I'd like to see the Mets work out this slight hesitation he has before release. There's no way a player like Becerra, who will be lucky to see the majors before 2016, could stand in the way of the Jays making this trade, but his inclusion makes the return all the better for the Mets.
Read Law's full insider piece reviewing the trade here.