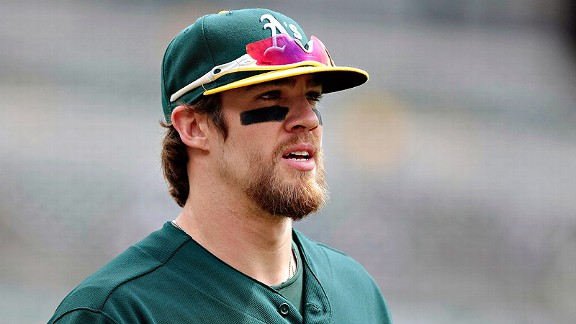 Kelley L Cox/USA TODAY Sports
The Mets announced the acquisition of Collin Cowgill on Tuesday.
The Mets have acquired outfielder Collin Cowgill from the Oakland Athletics for Double-A infielder Jefry Marte.
Cowgill, who bats righty, has hit .255 with two homers and 18 RBIs in 196 at-bats over two seasons at the major league level, with the A's and Arizona Diamondbacks.
He has batted .298 against left-handed pitching and .223 against right-handed pitching, suggesting he could be a platoon mate for Kirk Nieuwenhuis or Mike Baxter.
Given the lack of righty-hitting outfielders, the 26-year-old Cowgill would appear a solid bet to make the team out of spring training.
Marte, 21, hit .251 with nine homers and 58 RBIs in 462 at-bats last season with Double-A Binghamton. With David Wright agreeing to an extension and prospect Wilmer Flores also primarily playing third base, the Mets are in good shape at the hot corner.