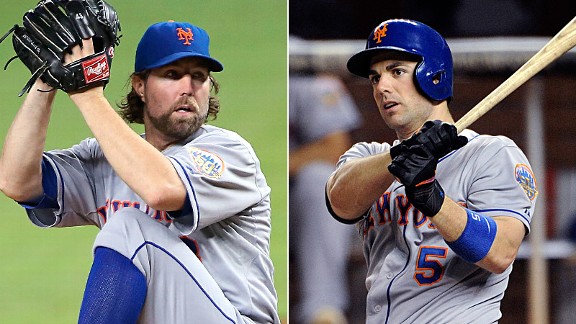 Getty Images
David Wright said he understands the trade of R.A. Dickey.
David Wright, who turns 30 on Thursday, said he was not caught off guard by the trade of R.A. Dickey to the Toronto Blue Jays. He understood that was a possiblity as early as when Sandy Alderson paid a visit early in the offseason to Norfolk, Va., while trying to persuade Wright to sign an extension.
"Going back to when Sandy came down here and we were having those honest conversations, I was well aware that not only was Sandy looking to better this team now, but that he also wanted to build a solid foundation for the future -- and the not-too-distant future," Wright told ESPNNewYork.com on Wednesday. "That definitely came up.
"I think it was important for us to get a little bit younger. I think it actually kind of works out well for both sides. You have Toronto, obviously, with their situation, and us with our vision. I spoke to R.A. earlier this morning and he seems to be happy. The players we've gotten back, I've gotten a chance to speak to them. They're excited. And I think it fills needs for both sides."
Read the full news story here.