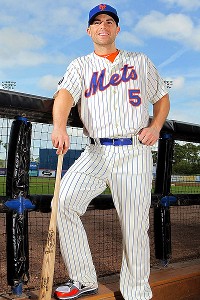 Marc Serota/Getty Images
David Wright is now a 30-year-old.
David Wright is no longer a twenty-something. The third baseman and soon-to-be captain turned 30 Thursday. He was born on Dec. 20, 1982 in Norfolk, Va.
"I haven't thought so much about it," Wright said Wednesday. "I feel great. It's kind of a strange question, because I feel just like yesterday I was 21. But I feel great. I don't feel any different. You can call back tomorrow if you want and I can try to answer the same question."
Wright has just returned home from Turks and Caicos, where he attended a friend's wedding.
By the way, Wright is the longest-tenured Met by a good margin. He made his major league debut on July 21, 2004. The next four on the seniority list all debuted in 2008:
Johan Santana on March 31
Daniel Murphy on Aug. 2
Jonathon Niese on Sept. 2
Bobby Parnell on Sept. 15